Despite the slowdown in Retail in western economies, the retail industry in China is booming and strong.
Several factors likely contributed to this resiliency, paramount of which are the favorable conditions in emerging markets, the adoption of new retailing strategies and technologies, and the robust growth of the world population.
Retail in China
Large shopping malls have emerged across China to accommodate the rising demand for premium and luxury goods.  These malls are places to buy products, but increasingly are places for consumers to "window shop" with friends and family.  However, a major shift has occurred in China.  Consumers increasingly prefer to purchase products online.  Retail environments increasingly serve as product showcases and locations to bond with brands.
China's Luxury Market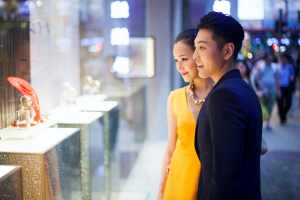 China is undergoing rapid social change. A rising Middle Class fueled by a growing GDP per capita growth has caused many people to have disposable income.  With one of the largest transformations to a Middle Class society, luxury goods are an important way to communicate value and social status.  This "conspicuous consumption" occupies an important part of Chinese society today.
China's Advanced Payment Technology
China has extraordinarily leapfrogged the development of a consumer credit card system, transitioning at lightning speed to a cashless, mobile payment system.  The payment system avoids the four party system of issuers, cardholders, acquirer and merchant in the United States.
Popular social media include WeChat, Weibo and Tencent allow customers to rapidly share information and payments with others.  Chinese consumers have embraced cashless mobile payments in almost all purchases and share with friends their purchases.   
With this increase in disposable income and China's past reputation as a maker of inferior goods, China has a high demand for Luxury Goods Market. 
E-Commerce in China
Taobao, JD and T-Mall are major players in China's booming e-Commerce market.  Other e-Commerce leaders include Yihaodian, Jumei, WeiPinHui and XiaoHongShu.
Retail Market Entry in China
Not all developments have been rosy, however. For example, a number of global retailers that have spent millions to establish their physical presence in China have folded local operations or are in the process of doing so. Two such players are mega brands Best Buy and Mattel. This apparent contradiction, however, does not diminish the growth trend in global retail but only highlights the different aspects and potential pitfalls that retailers can consider when engaging specific economies or markets.
The Competitive Landscape in China
Buoyed by the spending climate in emerging economies, international retailers–comprised mainly by US and European brands–continue to outperform many local competitors. The channels through which retail operations may possibly be conducted are also evolving.
Key needs for Retailers in China include:
The need for retailers to prioritize their online presence;
The continued importance of optimizing the customer experience brick and mortar stores;
The need to become more efficient and cost competitive in retail to combat price competition
The need for Omni-Channel strategies to align channels for a robust customer experience.
About Retail Market Research in China
Retail Market Research in China uncovers data, insights and strategies to uncover strategic advantages.  Companies use findings for tactical decision-making and new product launches.  Different methods achieve different strategic priorities:
Qualitative Research uncovers into what's important to customers and reasons behind certain phenomena.  Methods include Focus Groups, Online Communities, Customer Interviews, Ethnography and Mobile Video Interviews.
Quantitative Research measures the extent to which customers behave.  It can uncover pricing, product and loyalty insights.
Strategy Research uncovers insights and strategies to create advantage in competitive industries.  Solutions include Competitive Analysis, Market Opportunity Research, Go-To-Market Strategy and Channel Intelligence.