Market Research in Ontario, Canada
The Province of Ontario is in Central Canada. It is the second-largest (after Quebec), and it has more people than any other Canadian province. It is the seat of Ottawa, the country's capital, but Toronto is the capital of the province. The latter city is also the most densely populated in the country. The primary language is English.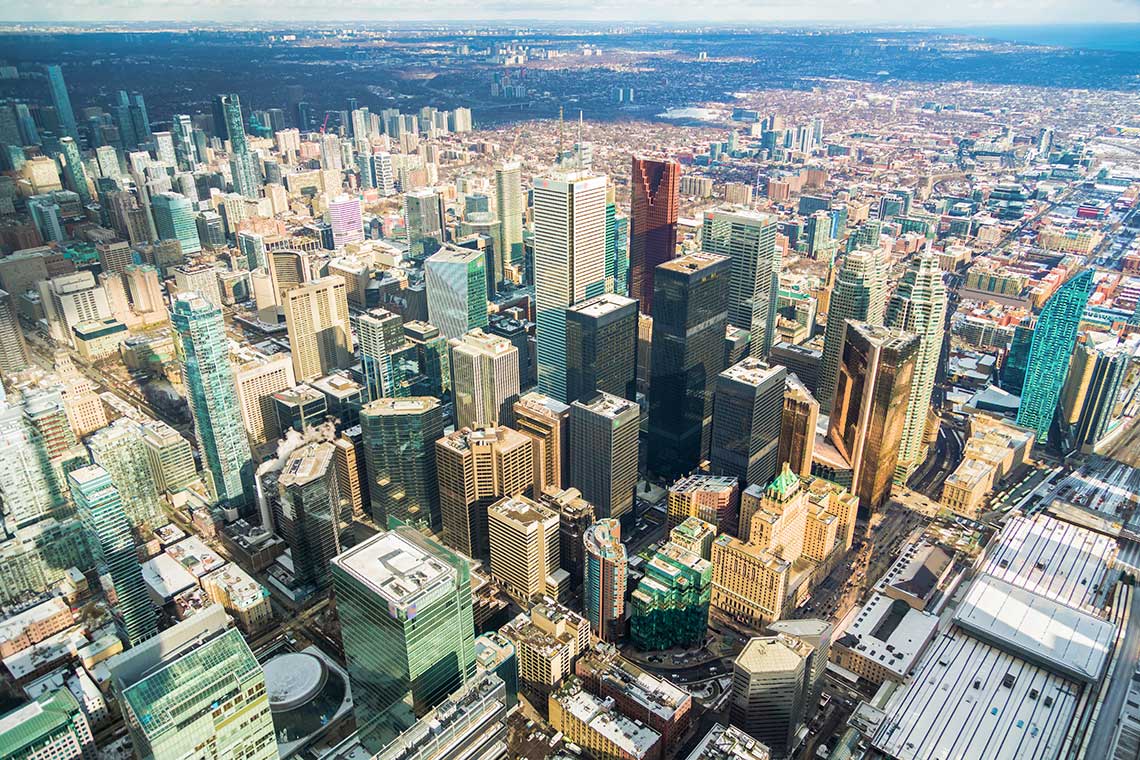 Key Industries
The province's economy is quite diverse. Although manufacturing plays a major role, the service sector is more prominent.
Also, Highway 401 between Waterloo and Toronto has become one of the largest tech centers in North America. Toronto, Markham, and Waterloo now have a large number of tech firms.
Neighborhoods
Toronto is on the northwestern shore of Lake Ontario. It is a vibrant place with high rises at its core, dwarfed by the iconic free-standing CN tower. Likewise, Toronto is a business, finance, artistic, and cultural hub. For this reason, many people regard it as one of the most diverse cities in the world.
West Queen West is a hip district with galleries and quirky indie stores that attract artists and other creatives. People love it for its Graffiti Alley murals and hippie street fashion. It also has busy pubs, cafes, and bistros. The Trinity Bellwoods Park is a popular hangout for families and dog owners, while the Drake and Gladstone "art hotels" often hold concerts and other events.
Trends
With the rise in the work-from-home trend, many people have started working on their homes and backyards. Thus, sales of office furniture are on the rise. Also, people are updating their Wi-Fi networks and computer equipment.
In addition, sales of vacuum cleaners and electric toothbrushes have shown recent increases. Likewise, indoor fireplaces and electric breast pumps are also jumping off the shelves.
Benefits and Strengths in the Market
Firstly, one of the province's strengths is that it is Canada's most diverse. There is a mix of agriculture, natural resources, and manufacturing. Service industries are another strength. These industries offer substantial fluidity. They help to make the province almost immune to the ups and downs of change.
Secondly, there are low barriers to business investment and growth. This province boasts a world-class tax system.
Lastly, it has one of the most robust banking systems in the world. It is home to premier financial institutions. These banks have built up business confidence and created a stable setting for investment.
Why Grow Your Business in the Market
You have access to the global market. Canada is the center of all trade activities in 51 countries through 14 trade accords. In 2020, the Canadian Department of Global Affairs stated that Canada is the only G7 country that has signed trade agreements with all the other G7 countries.
Canada has 24 airports, 17 seaports, and 117 border crossings to the US. There is no doubt that Canada offers the best air and other modes of transport. It also provides smooth business operations. Best of all, investors get fast and direct access to Asia, South America, and Europe.
The state has put forward some of the best plans and actions to boost growth in tech and innovation. This province is one of the most generous when it comes to tax incentives.
With its advanced education system, Canada has a talented and clever workforce. This province, in particular, is one of the most attractive places in which to invest.
About Market Research in Ontario
Would you like to start a business in Ontario? If so, then you've come to the perfect place. We set up focus groups in different areas of business in Canada. Likewise, we can conduct quantitative, qualitative, and strategic research for you. Research is a vital step forward for doing business in this province. We will collect the needed elements for you and your business. We also do surveys, interviews, and other market research, which will ensure the success of your business.