He's the man on the dollar bill, the ultimate father figure … George Washington. His accomplishments were many and we recount them with a measure of pride and awe.
About George Washington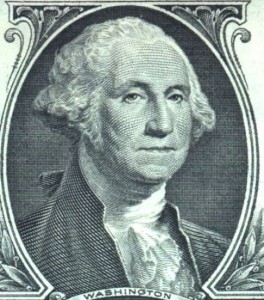 He was a delegate to Congress, the leader of the Continental Army in the Revolutionary War, and ultimately, the first president of the United States. Not a bad little resume, but there was more to George Washington than most of us may know.
While Ben Franklin was off flying his kite and Thomas Jefferson was muddling with Monticello, George Washington was getting down to business. Big business. It wasn't easy, either, with that mouth full of wooden teeth and an inability to lie, but he did it. He became a model of visionary entrepreneurship and his successes may be worth recounting.
George's dad died when he was eleven. By the time young George was old enough to drive he was already working as an apprentice land surveyor and was learning all about land acquisition and the real estate business. He commissioned Betsy Ross, who was better known as a gifted flag-designer, to make him a gold jacket, which he would wear proudly as he tacked up his Century 18 signs here and there.
George Washington's Business History
Before, during, and after his time as president, George Washington explored and excelled in a number of challenging business enterprises. Marrying rich didn't hurt either. Martha Custis was a widow and a wealthy one at that. George married her and increased the size of his property from two to eight-thousand acres.
In addition, Washington also built an elaborate flour mill with imported stones. He sold his 'George Washington' flour at home and abroad and, in doing so established an early form of branding that persists and proliferates to this day. Of course, never one to miss an opportunity, Washington utilized the Potomac, which flowed past his property, to stock and maintain a profitable fishery. 1.5 million fish-a-year, and George counted each by hand! At least, that's what they say.
Washington's Legacy and the President Day Holiday
George Washington's legacy is that of strong national leadership and bold venture capitalism. We salute this successful and inspiring Commander-In-Chief and early entrepreneur.