Market Research in Mexico City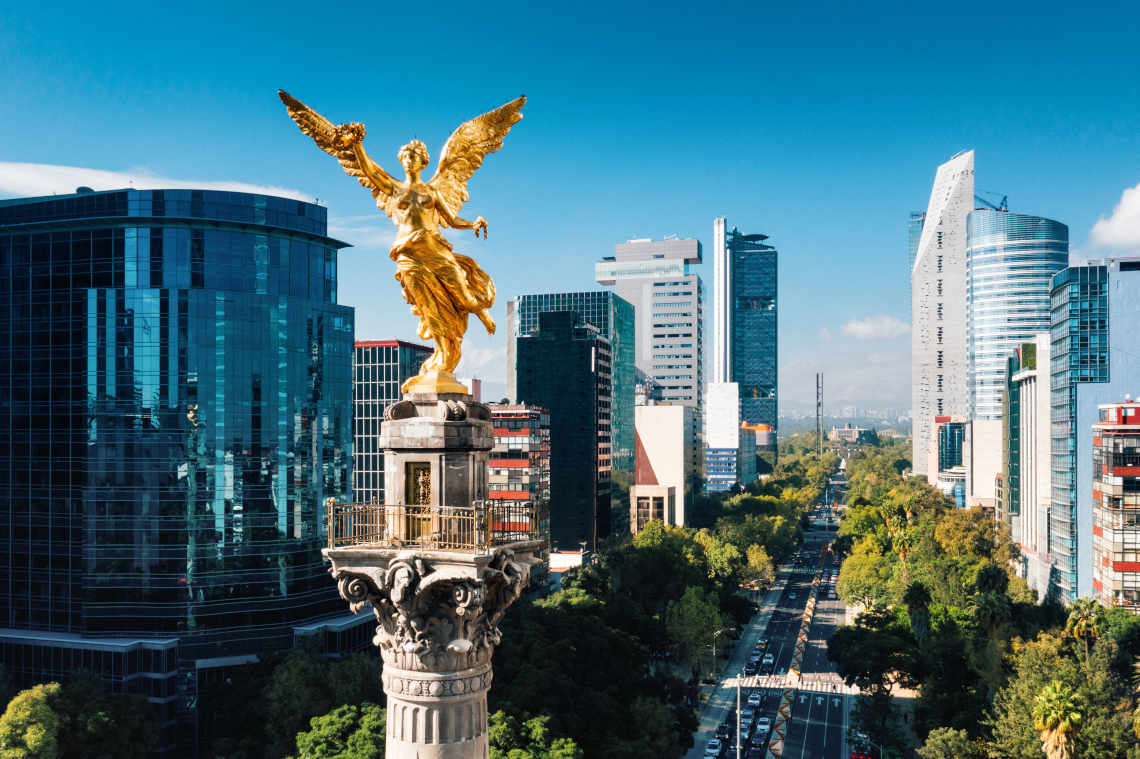 Mexico City is the most populous city in North America and one of the largest metropolitan areas in the world. Located in the Valley of Mexico and built on the ruins of the ancient Aztec capital Tenochtitlan, this city is named after the Mexica, who once ruled the Aztec Empire.
Neighborhoods
El Templo Mayor is the ruin of a 13th Century Aztec temple, next to the baroque and gothic cathedral (la Catedral Metropolitana) in the center of town. The National Palace (el Palacio Nacional) displays murals by Diego Rivera, and the Palace of Beautiful Arts (el Palacio de Bellas Artes) is an impressive building that hosts many cultural events, such as music, dance, opera, theater, and literature, including art and photography exhibitions.
To escape the hustle and bustle, Chapultepec Park – in the heart of Mexico City – provides a large green area (about double the size of Central Park in New York City). There, one can not only enjoy long walks and some fresh air but also visit historic sites, for example, the Chapultepec Castle. It's one of the oldest urban parks in the world.
Key Industries
Trade and transportation is the largest sector in Mexico City, providing work to a big part of the city's inhabitants.
Other main industries are construction, cement, iron and steel production, furniture, textiles, and yarn.
The banking and finance industries play a dominant role since Mexico City is home to the Federal Reserve Bank (Banco de Mexico), every major banking chain in the country, and the stock exchange (la Bolsa). All key financial industries – plus insurance services – are located in Mexico City.
Last but not least, tourism also creates employment opportunities.
Trends
In general, there are some areas downtown that are safe to walk at night, but it is best to get a taxi or Uber to travel after dark. However, if walking is still preferred, then it is recommended to do so in a group. Good judgment and common sense should be constant companions when traveling in Mexico City. Caution is advised, especially in non-touristy areas. Notwithstanding these warnings, there are still many areas and neighborhoods that are safe to visit.
Due to Mexico City's dense population, covid had a drastic impact there. However, the majority of the inhabitants are now vaccinated, social distancing is recommended, and masks are required indoors.
Nightlife in Mexico City is excellent and pretty safe, as long as one takes precautions and doesn't stray off to dodgy areas.
Benefits and Trends of the Market
The United States is a strong investor in Mexico. Companies from Germany, China, France, Spain, Argentina, the United Kingdom, and other countries have also set up business there.
People in Mexico also make a lot of purchases online, with high numbers in e-commerce, Amazon, Walmart, and Mercado Libre. Mexican consumers – even more so in Mexico City – are very open to buying from international companies online.
Key Success Factors in Doing Business in Mexico City
Its ideal geographical location, strong infrastructure, and incredible amount of natural resources attract many investors to Mexico and its capital.
Mexico City lies at the center of a large transportation network. Buses depart day and night to other cities and states at reasonable prices. The international airport offers entrepreneurs easy access to markets in North America, South America, Asia, and Europe.
Furthermore, Mexico welcomes foreign investors. It is one of the top recipients of FDI, with Mexico City being the main recipient in the country.
Consumer Base
The living standard ranges between good and outstanding, depending on the neighborhood where one settles down, whether it is an exclusive area or a house/apartment downtown. Although the cost of living is more expensive than in the rest of Mexico, compared to major cities in the US it is still quite low. In terms of grocery shopping and shopping malls, there is a plethora of options.
Another chief advantage is that one can live in Mexico City without a car. Public transportation encompasses not only the capital but also reaches far into the State of Mexico which is an extension of the city. Nonetheless, it is best to avoid taking the subway during rush hour.
Mexico City has a beautiful historical center that attracts flocks of tourists throughout the year. At only an hour's drive out of town, one can find Teotihuacan, home to the famous and intact pre-Columbian pyramids, which is worth a visit.
Reasons to Grow your Business in the Market
Mexico has one of the largest economies in Latin America, with rapid growth in GDP, and low labor costs. Its strategic position, close to the United States and Canada, is a great advantage, and it is also reachable by land, air, and sea.
Most importantly, the North American Free Trade Agreement (NAFTA) offers special access to a major part of Mexico's exports to the US and Canada. Additionally, the European Union eliminated a large percentage of tariffs on Mexico's exports. With these strong reductions and trade agreements, Mexico's economy will continue to grow.
Due to this and the previously mentioned factors, Mexico has become one of the most attractive emerging markets worldwide.
About Market Research in Mexico City
Before investing in this market, doing some research is always essential. One can use surveys, interviews, and focus groups for that. Taking these steps ensures better business choices and reduces risks. The main research types that are used are quantitative, qualitative, and strategic. Finally, getting acquainted with Mexico's immigration and tax laws is highly recommended as well, and it is best to obtain some assistance from local experts for that. The large immigration office in Mexico City is well organized and works efficiently.
Contact us for your next Market Research Project.