Consumer Electronics Market Research Experience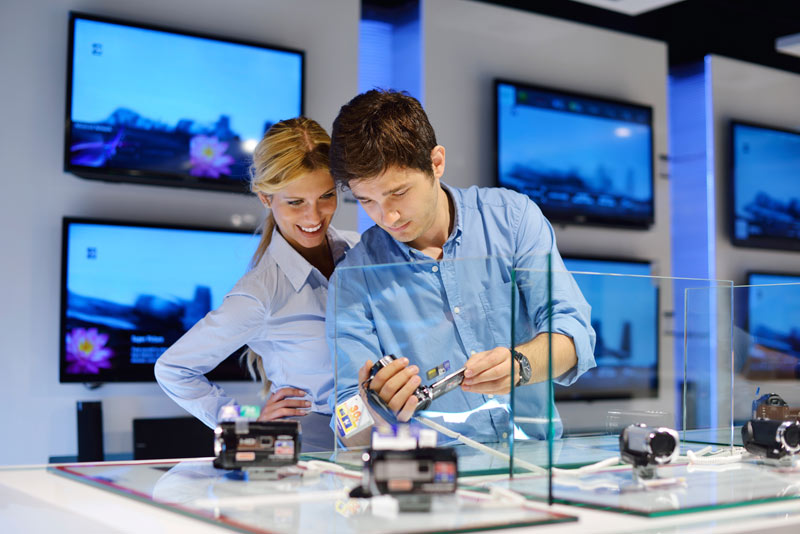 Our Experience:
Conducted in-store intercepts of PC and Tablet owners in US, China, India, and Germany.
Conducted consumer surveys to determine preference for consumer electronic equipment.
Conducted the US concept testing among low-incidence respondents (e.g. educational IT managers, children, parents, teachers) in the US for an Asian electronics manufacturer Recruited, hosted and moderated 16- 18-year olds for a cell phone study to explore new features and benefits.
Conducted feasibility study to assess the launch of AV products in various Asian markets
Intercepted pre-paid mobile phone users in Thailand for a study
Conducted large-scale concept testing among 600 mobile phone owners in the United States.
Conducted consumer surveys in the digital camera market.
Conducted recruitment and neuromarketing research [eye tracking, EEG testing and other methods] on non-smartphone owners in NYC.
Coordinated smartphone user interface study in the NYC metro area.
Conducted new product concept testing in NYC among ages 18-34 on a new lifestyle laptop.
Conducted focus groups for US consumers to test new consumer products in the digital camera market.
Conducted national and international market study regarding flat panel plasma and LCD televisions.
Conducted consumer focus groups to analyze what factors determine the appeal to customers of demo contents displayed in a store.
Conducted ethnography and in-depth interviews in New Jersey among cell phone owners.
Conducted dealer in-depth interviews to understand how dealers are using demo contents for promoting sales.
Conducted a global tracking study on consumer electronics to assessment market needs and future industry movements following the global recession of 2009.
Conducted international quantitative TV study to determine the attitudes and usage habits of TV customers in India, China, UK, and the US.
Conducted focus groups on MP3 usage.
Market study on TV callbacks.
Conducted consumer intercept study at a major convention center in New York.
Conducted study to understand how people used a particular computer program and how the purchase decision was influenced and made within businesses of different sizes.
Conducted research study on users of the Mac operating system.
Conducted focus groups of mobile phone users who reflected market share of top brands.
Conducted research study to understand market response to the existing Blu-ray player and to examine consumer needs and attitude towards the player.
Conducted interviews in Israel and South Africa with TV purchase decision-makers who had recently purchased an LCD TV
Conducted qualitative and quantitative market contact audit of HHP (mobile phones) and CTV products in Mexico
Conducted a study in order to understand the lifestyle and TV related environment of Premium seeker in the US
Market potential study for garbage disposals in the Russia using in-depth interviews with wholesalers.
Conducted a segmentation study on digital still cameras.
Conducted a qualitative study on home theater
Intercept of pre-paid mobile phone users in Thailand for a survey
Conducted a business and market intelligence study on Overhead Motor Operator and Air Brake Switches in the US.
Conducted recruitment and moderation of high end headphone users for packaging design study.
Conducted focus group study of headphones and headsets users in New York.
Conducted an immersion into the live of 9 respondents in Austin, New York and Seattle to understand their usage habits in consumer electronics.
Focus group interviews to determine product specifications for a major electric cigarette producer.
Product test of hair dryers in the United States among female users.
Conducted home visits among users of portable air conditioners.
Conducted cell phone study for brand-assessment in the United States.
Recruited respondents for a usability tests in digital signage products.
Conducted a usability study for a major smart TV producer.
Conducted a gang survey to discuss perceptions and trends of robot vacuum cleaners.
Hybrid gang survey among tablet pc owners.
Conducted market analysis on the air hand dryer market.
Measured brand associations / halo effect in the field of kitchen appliances for a major electric company.
Market intelligence report of the battery industry in the US and analysis of its trends.
Conducted telephone interviews to fully understand the under cabinet TV market in the United States.
Conducted market intelligence study (IT, Printers, Memory) for a major producer of consumer electronics in the US.
Conducted market intelligence study among dealers of under cabinet kitchen TVs to determine market trends, competitor and buying center profiles.
Conducted interview & hybrid gang study for OLED TV users
Conducted consumer insight study for speaker bar and docking speak consumers
Conducted a big screen TV survey
Conducted sound test for headphones
Conducted a mobile phone design study
Conducted a High End VIP Future TV Market study
Conducted a mobile phone case study
Conducted a research study for localized TV development in Korea
Conducted a TV channel study
Conducted a focus group study regarding different types of notebooks
Conducted a research study regarding app developers and their bosses.
Conducted research study regarding the usage of and attitude towards SD cards
Conducted a research study regarding High End 55TV's
Conducted a qualitative study for the DSLR Camera Market
Conducted research study regarding air conditioners
Conducted research on smartphones and related devices and services
Conducted research study regarding electronic bicycles
Sample of our current and past clients
Apple
Casio
Donghwa Tech
Dongyoung Media
Georgia Pacific
Hakuhodo
Infocomm. International
LG
Philips
Rayovac
Samsung
Sennheiser
Sony
TopEase