Market Research in Frankfurt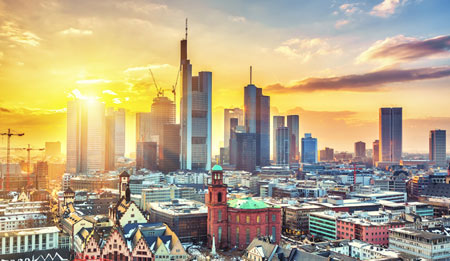 Frankfurt am Main is the Financial and Services center, leading the way as one of Europe's leading corporate locations.
The European Central Bank has its headquarters in Frankfurt and causes Frankfurt to exert major international monetary significance.
Thanks to its central location, international diversity and forward-looking companies, the city of Frankfurt is a major Global City.  Frankfurt is also the fifth largest city in Germany by population.
Frankfurt has a strong and stable Financial Services industry and is known worldwide for hosting Germany's stock exchange.  The city also hosts other industries, such as the Biotechnology, Marketing, IT and Logistics sectors. In addition, the headquarters of the sports associations Deutsch Football Association and German Olympic Sports Association is located in Hesse.  Frankfurt's efficiency and broad market access helps organizations adapt, compete and succeed.
Opportunities in Frankfurt
With around 736,000 inhabitants, Frankfurt is the largest city in Hesse, which is one of the most important regions in Germany.
The cooperation of companies in Frankfurt with local universities and research institutes leads to many new ideas, developments and innovations. Since the city has been known for research and science for centuries, a large number of renowned universities and research institutes are located in Frankfurt.  Leading universities in the area include the Johann Wolfgang Goethe University and the University of Applied Sciences Frankfurt am Main.
Frankfurt is one of the most important Biotechnology and Pharmaceutical centers in the world.  Often referred to as "Germany's largest pharmacy," Frankfurt is one of the largest insulin production centers worldwide. The Biotech companies operating in the Hessian city are among the most recognized and prominent in Germany.
"The Digital Heart of Europe" is another name associated with the city on the Main. Today, countless IT and telecommunication companies operate in Frankfurt. It is also home to DE-CIX, one of the world's largest data providers.
Frankfurt hosts a large number of international advertising and communication companies operating in the region.  The city is considered an important Consumer Test Market due to its central location and large consumer base.
Also, Frankfurt is known to be the center of German logistics and mobility. The city has a leading global airport that is also one of the largest in Europe, a very busy station and a well-structured transport network.  This transportation infrastructure allows the efficient flow of goods and services around the region.
Market Research in Frankfurt
Market Research enables Frankfurt companies to identify and explore how they can better satisfy their customers. In addition, it provides companies with accurate insight into factors that affect their business. This offers the opportunity to help companies to develop actionable solutions that leads to better performance.
Frankfurt is an ideal Consumer Test Market for Germany because it is centrally located and it is influential for consumer products in Germany.  Our key Research and Strategy solutions include:
Focus Groups
In-Depth Interviews
Video Interviews
Ethnography
Surveys
Competitive Analysis
Market Opportunity, Entry and Sizing
Market Assessments
SIS International Research provides full-service solutions to the Consumer, B2B, Industrial Manufacturing, Healthcare and Automotive industries.  We can help you analyze the market and your competitors to develop "competitive advantage." Our team operates all over the world and is always ready to customize a project to your needs.