Executive Summary
In 1995, Carrefour expanded its European hypermarket concept that it had originally pioneered decades ago into Dubai, United Arab Emirates. Following a cautious country-by-country expansion strategy into Emerging Markets, Carrefour saw potential in the Dubai emirate. The emirate had a flourishing retail industry and exhibited strong fundamentals in its flourishing economy. Carrefour's objective was to find a mode of entry that would allow it to reduce risk of failure and maintaining profitability, while offsetting its longstanding global rival Wal-Mart.
Dubai presented many advantages for companies considering market entry into Dubai in 1995. Despite a small population relative to other markets it served, Dubai offered an unusual composition of Expatriates and local residents in an economy with one of the highest standards of living and income in the world. The market was extremely business friendly with many advantages like zero corporate taxes in conjunction with very few barriers to trade. It had superior transportation networks, a well-defined legal system, positive retail conditions, strong economic growth, low political, and transfer risks.
Carrefour reviewed the laws and determined that a joint venture would be best to minimize the risk of failure while having a qualified partner to aggressively seek growth and manage operations. It partnered in a joint venture with Majid Al Futtaim, a pan-regional conglomerate with retail experience in the Middle East. The joint venture adapted to the market by changing the place of its stores to the shopping mall, adapted its food to socio-cultural norms, promoted mostly non-food items because of higher profit margins, and was very careful in discounting amidst double-digit inflation.
The venture was successful for Carrefour given that it increased the number of stores opened in Dubai and expanded to nearby countries. Ultimately, Carrefour was successful because it developed a First Mover Advantage, it thoroughly adapted to the extent that it did not feel foreign to many consumers, and because of Majid Al Futtaim's aggressiveness in identifying and pursuing growth opportunities. Carrefour faces two key problems including Customer inconvenience and Dubai's longterm macroeconomic challenges. To address these challenges, Carrefour should seek to build new advantages through market positioning, strengthen its First Mover Advantage to limit competitive pressures, and build up specialty foods sections to better target expatriates.
Company Overview
The French Fournier and Defforey families founded Carrefour in 1959 as a supermarket retailer. It was not until four years later in 1963 that the group opened its first hypermarket, which eventually led Carrefour to its success. In 1969 the company decided to expand internationally and opened its first hypermarket in Belgium In 1977, "Produits Libres" or unbranded products were introduced as a substitute to popular brands and were dubbed just as good. This pioneer idea led the company to create its own brand in 1985, which led the way for supermarket and hypermarkets worldwide. The idea was to help create even lower prices at the markets. Extremely low prices were one of the guiding strategies the company used to compete and buy out other chains.
Carrefour's key to success is the hypermarket, the all-in-one shop that sells everything from bananas to baby strollers at discount prices. It was the company's original idea and has now expanded worldwide, its players among the greatest business giants history has known. As part of its Firm Specific Advantages, it is the global leader in hypermarkets having pioneered the concept, giving it significant advantages among its competitors in operating the concept. Secondly, it has developed its private label portfolio of products that enables Carrefour to offer lower prices.
Third, it has a very strong brand for quality and value in markets, and as a result has gained global recognition, evident by its number two status as the world leader in the hypermarket segment. Furthermore, Carrefour had developed significant First Mover Advantages in having been the first to enter into many emerging markets.
Some Firm Specific Disadvantages include Carrefour's various entry failures in other markets and the negative connotations associated with the company's conviction of false advertising and charge for undermining capitalism. Also, as a First Mover Carrefour faces the increased costs associated with infrastructure development and extensive advertising. Finally, Carrefour must greatly adapt its product because food is a multi-domestic product and local consumers have diverse preferences and functional requirements.
As a French company, Carrefour has several Country Specific Advantages (CSAs). First, French companies were considered to have high quality goods and specialty items. In particular, French goods had a reputation for being luxurious, unique and beautiful. Second, countries like the United Arab Emirates and cities like Dubai considered France an ally, given the strong political relationships between the countries. Eventually, France decided to locate a French permanent military base in the UAE in 2008 due to the strong relations. However, France also developed Country Specific Disadvantages. One of these perceptions was that the French were considered uptight and that the French considered their ways of doing things superior. Compared to English, the French language was not widely spoken worldwide and thus a language barrier existed. Last, although goods were luxurious, a disadvantage was that French goods were deemed too fancy for every day life.
In 1993, Carrefour's global revenues were $21.82 billion, and Carrefour was voraciously looking for growth in Emerging Markets. Around this time, none of Carrefour's competitors such as Wal-Mart, Tesco, Auchuan, Casino and E. Leclrc expanded to the United Arab Emirates. While rival Geant may have been considering the market given its strategy of expanding into emerging markets, Carrefour would have been the first major foreign retailer to operate in the Dubai market which would give it a First Mover Advantage.
Currently Carrefour is the second largest hypermarket chain worldwide behind Wal-Mart and the largest in Europe, with 2006 sales of $102,774,800 and 16.5% growth. It operates about 15,000 stores of many different sizes and categories including hypermarkets, supermarkets, convenience stores, discount stores, and cash-and-carry stores. Today Carrefour hypermarkets "offer an average surface area of 8,400 sq.m filled with a range of between 20,000 and 80,000 food and non-food items."
Carrefour's major competitor is Wal-Mart who seemed to have similar success and failure abroad. Wal-Mart succeeded in Japan, through joint ventures and emphasis on local culture. It did, however, fail in Germany where the concept of a huge American discount store did not culturally resonate. Carrefour's major French competitors are Auchan, Casino Guichard and E.Leclerc who all fall far behind the company in sales and size, by provide constant price competition to Carrefour.
Previous Foreign Entries: Lessons Learned
Carrefour has a tradition of strongly seeking growth, particularly in Emerging Markets where growth is higher than in Developed markets. The company pursues a Waterfall Growth Strategy because it carefully chooses to expand after feeling comfortable about success in the target market. Yet, despite this cautiousness, the company has had to withdraw from markets where it has not achieved its growth objectives."
First, in the 1980s Carrefour failed in the United States with only two hypermarkets. Its market entry in Philadelphia was rough, with union antagonism protesting the 335,000 square foot store and visible picket lines that bothered existing customers. After this difficult experience, it opened a store in New Jersey in 1992 that was much smaller and that resembled a warehouse with products that looked like they originated from a supermarket.
But Carrefour conducted little advertising to bring more customers into its huge stores. Also, Wal-Mart opened a store nearby and Carrefour finally pulled out of the US. Ultimately, Carrefour lost $80 million on its failed US expansion. Second, Carrefour failed in Japan because of Carrefour's inability to answer the needs of Japanese consumers, highlighting the importance of pre-entry research.
In addition, the company tried to enter alone rather than working with a local partner in a joint venture. Consequently Carrefour sold its stores to the AEON group, a Japanese retailing chain, to operate its stores under the Carrefour brand name. In addition, Carrefour withdrew from Hong Kong in 2000 due to the difficulty in transferring the concept due to the lack of retail space and Korea in 2006, largely due to intense competitive practices and poor performance.
Likewise, Carrefour typically uses both direct ownership as well as joint ventures, depending on the market. Specifically, markets considered difficult by Carrefour tend to be joint ventures.


Home country analysis: Dubai as a Market for Carrefour in 1995
Carrefour began the market entry process by examining the barriers to entry into Dubai and government regulations that might affect the introduction of the Carrefour brand into the market. The company had read how over only a few decades, the Emirate of Dubai had rapidly moved from an oil producing economy into an economic marvel with towering skyscrapers, abundant wealth and booming free markets in the middle of the desert.
Sheikh Rashid led Dubai's economy through a period of explosive economic growth from the 1970s to the 1990s with a vision to diversify away from oil production towards a modern city in the Arabian Gulf. The Sheikh's son, Sheikh Maktoum Bin Rashid Al Maktoum became ruler in 1990, and pursued free trade, technology, transportation and tourism, dramatically turning Dubai into a global economic powerhouse.
Fueling Dubai's success was its increasingly diversified economy outside of oil, strategic location between continents, burgeoning re-exports market to emerging markets, robust infrastructure, high quality of life, competitive cost structure, stable political situation, exceptionally business-friendly climate, defined legal structure, lack of preexisting legacy system and highly optimistic economic outlook. This prosperity sparked a common expectation and saying in Dubai, "If you build it, they will come."
On top of these economic figures, Carrefour saw positive retail conditions. The discounting concept had the potential to become successful due to high inflation. Also from 1987 to 2002, Dubai boosted its total retail floor space from 23,000m2 to 365,000m2, making it a major global contender in retail growth opportunity. Retail competition consisted of a handful of privately owned supermarket chains that imported goods and public member-owned cooperatives that were not legally permitted to import.
Carrefour noticed many other benefits to market entry. While the population of Dubai was only 689,000 people, the population was growing at 12.5% in 1995 according to Government statistics. Also, Dubai expected an influx of expatriates and tourists to drive sales. Furthermore, Dubai's economy was very business-friendly for three key reasons. First, Dubai had developed streamlined systems for rapidly establishing a company. Secondly, custom duties on imports were low or non-existent for many goods. Thirdly, it was one of the few countries offering no taxes on corporate and individual profits (excluding the oil sector and financial sector) or personal profits.
Dubai's political and transfer risks were low. Dubai allowed 100% ownership of the enterprise to foreign investors, 100% repatriation of profits and capital back to the home country. Secondly, the government did not require foreign investors to put forth a minimum capital investment. Thirdly, Dubai had a strong and speedy legal system. It had intellectual property protections, with law protections and a Trademark Department, Industrial Property Department and a Copyrights Department. Dubai had a court system similar to those in Western countries with three levels of secular courts. Furthermore, laws on foreign companies were modeled after Western models.
Many laws were established to protect consumers, prevent fraudulent trading and ensure fair trading among companies. Despite this, Emirati law favored local Emiratis and gave benefits to local companies over foreign ones. For example, Article 3 of Emirati Law did not afford the same rights of UAE nationals to foreign corporations: "Each company incorporated in the State shall hold its nationality but it shall not necessarily be entitled to privileges reserved only to U.A.E nationals." Nonetheless, Emirati law had very low political risks. Lastly, there were very low transfer risks. Foreign investors enjoyed the fact that the UAE's currency, the Dirham, was pegged to the dollar. This peg meant that investors would have confidence in not losing the value of their revenues in currency fluctuations against other major currencies. Lastly, Dubai had one of the lowest crime rates for a city in the world, which was optimal for retail companies selling expensive merchandise.
Dubai possessed superior transportation networks starting in the 1960s. Given its strategic location between continents, it eventually became a transshipment point between Australia and Europe; and between Asia and Africa. This infrastructure provided many benefits for a retail commercial hypermarket firm. Furthermore, major infrastructure projects were planned in the future, optimizing the logistics in Dubai. In the future, Carrefour could expect major logistics projects to be built. One of these was the world's largest free trade logistics zone, Dubai Logistics City. Another project was the rapidly growing number of passengers and renovations to the Dubai International Airport, a major airport aiming to become the region's main hub and service several dozen million passengers and tons of cargo. This infrastructure was important to Carrefour that planned to important its inventory. Thus, Dubai's outlook for global retailers like Carrefour seemed to provide ample opportunities.
Market Entry Strategy in the Dubai Market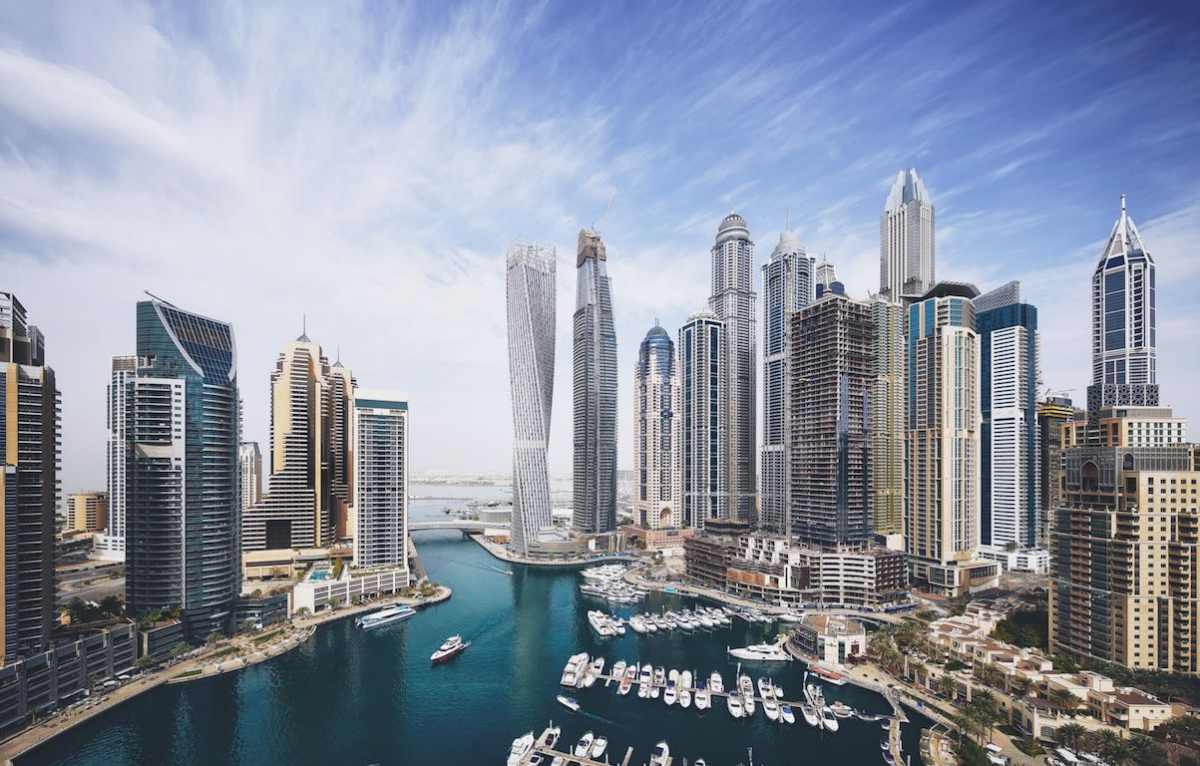 Carrefour evaluated Dubai's laws and market conditions, and determined that a joint venture would be best for market entry. Factoring in this decision were the favorable laws towards Joint Ventures. First, there was less risk in a joint venture. This was important as Carrefour had suffered an $80 million loss in the US market. Second, the UAE's Federal Commercial Agencies Law protected foreign companies in a joint venture from contract termination and exclusive presence in the region. To qualify as a Joint Venture, companies would have to be partnered with UAE nationals or commercial entities owned solely by UAE nationals. Carrefour also would have to rent and not own the property in its operations. This condition was not a drawback to Carrefour, which saw benefits in joint venturing with the sponsor embracing the liability of ownership. Furthermore, operating as a Joint Venture with a local sponsor would likely make it easier for Carrefour to obtain Food Health Certificates to import food, given that it was a foreign retailer attempting to sell food in a culture with important religious and cultural restrictions. Part of the Health Certificates was the Halal slaughter certificate allowing the sale of meat that has been slaughtered by a Muslim man according to Islamic rites. With the Joint Venture, Carrefour would enjoy the same low or no trade barriers on most of its inventory, excluding cigarettes and other luxury goods.
Yet, Carrefour saw some major barriers to entry include the difficulty in finding a local partner who was willing to accept the burden of navigating complex local import statutes and pre operational regulations such as product licensing, ensuring that the local municipal lab has access to product samples to test that the products being sold meet their health and cultural standards. Another barrier to entry was the costs of operating associated with the size of the locations used. For example choosing to open large hypermarkets rather than smaller supermarkets, Carrefour would have to endure high costs of renting stock shelving as well as listing fees. Another barrier to entry was a regulation passed by the Gulf Cooperation Council, which the UAE was a part of, which stated that all food products imported into the UAE must have half or more of its shelf life remaining at the time of entrance or clearance will not be issued. Some minor factors influencing entry into Dubai included the fact that weekends in Dubai did not correspond with traditional western weekends. Fridays and Saturdays constituted the weekend in the UAE and this would require adaptation to local customs to conduct daily business.
Carrefour evaluated Dubai's market benefits and risks as well as the modes of entry and decided in 1995 to partner with Majid Al Futtaim (MAF), a major pan-regional company owning and operating mall properties. The first benefit was that MAF owned the high-traffic malls and properties that would be perfect for Carrefour's location. Also, this could prevent other large hypermarket chains from entering the same malls, limiting direct competition. Secondly, MAF had operations throughout the entire Middle East, and this could potentially allow Carrefour to expand to other countries in the Middle East under the same partnership. Thirdly Carrefour preferred Dubai as a first market because it is the most populated emirate in the UAE, Lastly, MAF had experience in venturing with foreign retailers, and could handle Carrefour's operations. By positioning itself correctly in Dubai, Carrefour could then use the waterfall approach to enter the remaining six emirates and capitalize on the rising growth of standard of living in the UAE.
Marketing Strategy
Place
Carrefour/Majid al Futtaim's strategy was to adapt to the cultural importance of shopping malls and create a "city within a city" by being located inside a mall with entertainment centers, cinemas, food courts and other convenience amenities. Hence, Carrefour decided to place its stores in big malls in Deira City Centre Mall, Mall of the Emirates, Al Mamzar Century Mall and Bur Dubai – Al Shindagha. Indeed this adaptation differed from Carrefour's standard location of a freestanding warehouse-like building.
The rationale behind adapting the traditional hypermarket was due to the fact that Dubai has a very strong mall culture, owing largely to Dubai's cultural dynamics and harsh climate. First, the climate in Dubai is often so harsh that going to the mall is one of the few options to keep cool and entertained. Second, on a daily basis the mall provides an exciting experience beyond the shopping. In Arab society, socializing with family is paramount, and malls provide culturally appropriate entertainment for long periods of time. During the workday, Arab housewives will often go to malls with their friends to socialize, and bring their young children to play with each other at entertainment centers located on upper floors, while men are at work.
The elements Masculinity and Collectivism of Hofstede's Model are evident in Emirati culture. Men will often go with their friends to watch movies in cinemas located in the upper levels of the mall, and drink coffee with friends at cafes into the late hours of the night. During the Friday and Saturday weekend, large Arab families pour into malls and spend many hours there shopping, taking their kids to arcades, eating at restaurants, staying at mall hotels, walking and reclining. Despite spending long periods of time in the malls, many consumers only expect to window-shop and leave without buying merchandise. Third, Dubai's society has adapted to the convenience of being able to get high quality consumer goods in one mall. Fourth, Dubai's society is very young and enamored by the popular brands, found in malls. For many of these reasons, retailers must often accept malls as the place to locate their stores.
The other benefits of being located in shopping malls were that Carrefour could expect even higher volume of customers trickling down into the Carrefour stores. In addition, there was a large enough retail space in Dubai's malls for Carrefour to operate. Furthermore, Carrefour maintained its traditional big size, given that Majid Al Futtaim owned two of the malls under consideration. As a result, Carrefour's Deira City Center store became the largest store in Dubai. Nevertheless, by being located in central areas of Dubai, Carrefour had competition with traditional, small retail stores that were located closer to the consumer. The importance of location in Dubai could not be understated given Dubai's traffic problems.
Product
Dubai was a very international and diverse Emirate, particularly due to the large number of foreign workers. As such, Carrefour adapted by accepting foreign credit cards, the currencies of all GCC countries and international currencies like the Euro and US dollar. While Carrefour implemented bilingual signage in the stores, language and cultural barriers were not likely problems given that English was so widely spoken and consumers had experience with Western products.
First, Carrefour had to adapt its merchandise to the culture. For example, certain food nuances had to be appreciated, such as the sale of halal food that lacked pork. Second, Carrefour had to adapt to the seasonality of Dubai's business cycle given that it was customary in Dubai's culture for people to take their summer vacations to escape to cooler destinations. Third, Carrefour had to adapt to Islamic cultural holidays like Ramadan and Eid, which would build its peak sales. During these holidays, Carrefour had to account for increased demand and plan its supply accordingly to not disappoint shoppers. Fourth, operating hours in Dubai had to accommodate Dubai's workweek from Sunday to Thursday, and the weekend from Friday to Saturday.
Promotion
Carrefour did not adapt its promotional effort, which consisted of discounting certain items. Majid Al Futtaim handled local promotions, and coordinated some of these regionally with its stores throughout the Middle East. Promotions were placed in print media and in-store, to attract mall-walking traffic. Because Dubai was a society emphasizing the importance of social relationship, Carrefour could reasonably expect that consumers might discuss some of the deals.
Promotion was important in Dubai because of the high cost of living and high inflation. Dubai's demographics were highly skewed. Around the time of Carrefour's entry, only 17% of the population consisted of "Local Arabs" in 1998, while 85% were "Expatriate Asians" and 3% were Westerners. The Asian expatriate segment had the lowest disposable income, but was a large segment and was largely open to buying Western electronics and products. Because of the importance of inflation and these demographics, Carrefour's target segment mostly involved expatriates.
Price
Carrefour's price position was as a discounter, and used pricing as part of its promotional effort. Because of its strong brand name, Carrefour did not have to worry about brand dilution due to its discounted products. Howev
er, discounting was problematic in Dubai where inflation was sky high, and when fluctuations in inflation could erode profits. Another pricing concern was the food retail market was most competitive and thus profit margins were thin. Carrefour could sell non-foods, household goods and toiletries at higher margins.
Performance
Carrefour / Majid Al Futtaim do not report its Dubai-generated revenues or other country's specific sales. We did a thorough literature search and even contacted Carrefour's Investor Relations. Yet in both cases, the information was unavailable. There are two reasons for this. First, Carrefour MAF was a private joint venture, and was not obligated to show its sales figures. Secondly, in the region, there is a tendency to underreport information and lack transparency due to suspicion of what other entities might use such data for, according to Seraphina Anderson Executive Director of Feedback Market Research in Dubai/Sharjah. This venture likely prefers to keep their sales figures and data private to prevent competitors from taking such information and using it to their advantage.
Regionally, however, Carrefour MAF published overall sales figures in 2005 at $1 billion out of its 13 stores in 2005, around 1% of global sales. Other indicators show that the Joint Venture has been successful. In 2007, its sales from Carrefour rose to $2.5 billion regionally, due to aggressive regional growth. In 2008, the joint venture announced plans to enter Iran for further growth.


Critical Evaluation
Choosing Majid Al Futtaim (MAF) was a good idea for Carrefour. It had an appetite for expansion and growth, and aggressively entered into other markets in the Middle East. The choice also prevented direct competition in the same malls owned by MAF. Furthermore, the joint venture's adaptation to the local market ensured its success, given that many people of Dubai today consider the store as non-foreign and a part of life. Yet, Carrefour MAF has not done enough to ensure that is enough parking and sufficient taxis and good traffic flow around its malls, especially around weekends and holidays. This makes the venture more vulnerable to smaller niche stores and stores located closer to the consumer.
The Dubai market faces considerable challenges. First, competition is increasing, particularly in the food segment, which effectively reduces profit margins. While Wal-Mart and Costco are not considering the Middle East, other European hypermarkets are strategically entering the Middle East market. In 2006, Union Coop opened a 180,000 square foot hypermarket in Dubai. Geant, a European hypermarket chain, also entered Dubai in 2003. On top of this, nearby stores are skimming off customers like the Expatriate Asians who prefer not to drive far to shop.
The second challenge is chronic inflation. Due to rapid growth, high liquidity, high demand, low supply, and a currency peg to the recently declining US dollar, national inflation rates stood at around 13% in 2008, though economists expect actual consumer price inflation in Dubai to be at 20% per year. This inflation erodes revenues and rapidly raises costs of inventory and staffing. Thirdly, the decline of the dollar versus other currencies can lower the value of revenues when repatriated to foreign countries.
Fourthly, the UAE government has recently implemented more difficult visa regulations. This makes it more difficult to attract skilled Asians and Westerners to help drive the economy's growth. Lastly, the region faces political risks from Iran, Iraq and from terrorism. Additionally, Dubai is more dependent on foreign investment and tourism than the other Emirates.
Dubai was expected to be more vulnerable to global economic downturns than Abu Dhabi and other emirates. Due to the global credit crunch, the UAE's non-oil GDP growth was expected to slow from 8.8% in 2008 to 7.1% in 2009. Foremost to retailers is the expected implementation in early 2009 of a VAT (Value Added Tax) tax regimen around 5%. It was anticipated that this tax system will drive inflation even higher than its current high level.
Carrefour has one major difficulty with its model: the ease of shopping at its stores. Because shopping is in malls, it is often difficult to shop at Carrefour, particularly on the weekends and holidays when malls fill up. Dubai has a very strong driving culture, so this makes it difficult when there is limited space and few taxi cabs. In consequence, the line for a taxi can extend for hundreds of meters, such as at Deira Center mall, and the parking lot can be filled to capacity. Carrefour needs to address this issue to ensure that this inconvenience will not prevent shoppers from coming to its stores.
Potential Courses of Action
To best compete in the Dubai market, Carrefour MAF could follow several potential courses of action. Each focuses on improving Carrefour's competitive advantages, market positioning and driving sales. First, Carrefour may need to ensure that customers are not leaving its stores due to more convenient specialty stores located closer to customers.
To do so, it would need to address the inconveniences coming along with the Carrefour shopping experience, especially related to Dubai's traffic and transportation inconveniences. Among these are ensuring that there is sufficient parking and taxis as well as an effective traffic flow, especially during weekends and holidays. It could potentially do so by lobbying with the government for the taxi and traffic situation, and Majid Al Futtaim for parking issues because it runs the properties.
Secondly, Carrefour could seek new advantages to solidify position. Among these include positioning Carrefour as the place to go during economic turmoil. The rationale is that by attaching this perception to Carrefour's brand, it is ensuring that customers associate Carrefour with savings and with rough economic times. In so doing, it can improve its performance in economic downturns. Also, Carrefour could reinforce its First Mover Advantage as the authentic hypermarket. In Eastern countries, the most loved brands are those that are considered authentic. As such, by reinforcing this perception, Carrefour could potentially limit the effectiveness of direct European hypermarket competitors in Dubai like Geant and Union Coop.
Thirdly, Carrefour has been successful in Dubai along several indicators, but it could find significant growth in the market by focusing on the countless expatriates that come in and out of the county. Carrefour could strengthen its specialty food sections to attract various demographics, in terms of better selection. In so doing, it can better target Dubai's expatriate population that prefers to eat its own cultural food, and increase the frequency at which these huge segments visit its stores.
Carrefour's pricing strategy is also helpful in targeting this group because most expatriates work in Dubai to remit money home to their families. So Carrefour could become a great place to save money while not compromising quality. It could even develop to be a great place to buy gifts to send home. This effort could be supported by Word of Mouth promotional strategy, harnessing existing customers to tell their friends about the deals and quality at Carrefour.
Given that Dubai's expats mostly come from Asia where there are high-context cultures, Word of Mouth could be effective in targeting those expats who strongly value friends and family's suggestions over media and corporate opinion. Further marketing techniques adhering to Dubai's cultural imperatives could include discount coupons, a customer loyalty card and a home delivery service to the expatriate segment. Home delivery service may be a viable option for Carrefour because it fits into the cultural context of Dubai. The service could take advantage of the lack of public transportation in Dubai, thus helping it to better reach a broader customer base. Ultimately by targeting the expatriate population, Carrefour could potentially continue to grow and hit the population of Dubai that is not included in the 689,000 citizens (est. 1995).
Notes:
This article does not necessarily reflect the typical report composition of an SIS International's report, and is for information-purposes only. The article does not contain advice for decision making. No permission granted for reproduction.  SIS International.  Copyright (C) 2009.