SIS International Expands London EMEA office and Fieldwork Facilities
February 9, 2017—-SIS International Market Research announced the expansion and relocation of its London office to the Southwark area of London.  Previously located in the Strand, SIS EMEA has relocated its offices to expand its team and Fieldwork capabilities.
Located in London's Southwark borough, the new office is a five minutes' walk from London Bridge, the Borough Market, and the Shard tower, the tallest building in the United Kingdom and fourth tallest building in Europe.  The office is also a short walk from the Square Mile Financial District (City of London) and City Hall.  The area is a transportation hub with easy access to the London underground.
The new office location provides state-of-the-art facilities for conducting In-depth Interviews and Focus Groups, office space for project management, and conference rooms for interviewing and data collection.
The SIS International EMEA Regional Headquarters serves Consumer, B2B, Industrial, Automotive and Healthcare industries.  Key specialties include Consumer Attitude and Behavior studies, Food and Beverage studies, Tourism Research, B2B Market Research, and Market Opportunity & Entry Studies.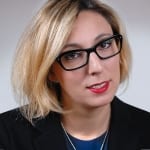 Federica Sacchi, Managing Director of SIS EMEA, stated, "We are very pleased to open our expanded new offices and fieldwork facilities in London Southwark.  The office allows us to grow our team and capabilities in the United Kingdom, Europe and the Middle East and Africa.  Our facilities allow us to efficiently conduct Qualitative Fieldwork and Quantitative Data Collection in the heart of London and serve the Europe, Middle East and Africa region of SIS International Research."
Ruth Stanat, President of SIS International Research, stated, "Our new EMEA office location in the heart of London provides enhanced Fieldwork and Data Collection capabilities for our clients in Europe, the Middle East and Africa."
About SIS International Research Inc.
SIS International Research is a leading full-service global Market Research & Strategic Market Intelligence firm providing comprehensive research services and strategic analysis of information. The company provides Qualitative Fieldwork, Quantitative Data Collection, Market Intelligence and Market Strategy Research.
Headquartered in New York City and founded in 1984, the company has key offices in London, Frankfurt, Los Angeles, Manila, and Shanghai.  Our coverage is Nationwide US, Europe, the Middle East, Africa, Asia around the world for over 50 industries.  SIS offers many other innovative products and services for our client's decision-making.