The Grapes of Math:
Adding Up Profits of Domestic Wine Sales
While most people probably think of France, Italy and Spain when it comes to wine, the United States is not far behind, ranking fourth globally. Wine-making is not a new practice in America. In fact, wine has been made in America for over 300 years. Today, wine production is undertaken in all fifty states, with California producing 89 percent of it.1 All told, there are over 8,000 wineries in the US, as the domestic wine industry has continued to grow for the past quarter-century.
Just how much money is involved in all this American wine? According to Wines & Vines, lots! US wine sales revenues in 2016 were up 5% from the previous year with sales estimated at $39.8 billion. Factoring imported wines into the equation, Americans are thirsty indeed, consuming an estimated $60 billion of wine last year alone. Is it any wonder that the outlook for 2017 is resoundingly optimistic?
If one was asked to name the five top wine-producing states in the country, number one is not hard to guess … California. The Golden Bear State is far and away the biggest producer of domestic wines, nearly six times more than its closest competitor, Washington-state. Next in line are Oregon, New York, and Texas, respectively. Nascent wineries are everywhere to be found in the US today, offering up wines with an interesting diversity of flavor and character.
Historically Speaking…
Our love affair with the grape goes back thousands of years, as early as 7000 BC in China. The Persians and Greeks were soon to follow. "From the beginning, wine has been an important component of many religious practices. Consumption of ritual wine was part of Jewish practice since Biblical times and, as part of the Eucharist commemorating Jesus' Last Supper, became even more essential to the Christian Church. Although Islam nominally forbade the production or consumption of wine, during its Golden Age, alchemists such as Geber pioneered wine's distillation for medicinal and industrial purposes such as the production of perfume."2
Throughout the ongoing civilization of Europe, wine's popularity only increased (as it has to this very day). Science and technological advancements have helped wine survive pestilence and adverse climatological conditions, to survive and thrive in the modern age.
Message In A Bottle
In the United States, not only are wine growers enjoying robust sales domestically, they are exporting to a world increasingly receptive of their products. According to the Wine Institute, The US exported 412.7 million liters or 45.9 million cases of wine in 2016. Some countries are geographically situated in areas not capable of growing good grapes. Take England, for example. Though it is a small country, they are definitely enthusiasts of American wines, drinking almost one-third of the product we produce. Canada, Italy, Germany, and Japan are not far behind. 1
According to Linsey Gallagher, Vice President of International Marketing at the Wine Institute, "California wine exports have grown by an impressive 78% by value in the last decade, despite the challenges of heavily-subsidised foreign competitors and high export tariffs." Silicon Valley Bank of California prognosticates premium US wine sales ($12 to $25) to experience a 10% to 14% growth in 2017. 2
Closer To Home
According to Nielsen (2017), 120 million Americans drink wine. That's roughly one-third of the US population. Of these people, 38% of them consume wine at least once weekly. While that number might seem high, globally Americans rank 42nd in per capita wine consumption. The Wine Market Council reports that generationally, Millennials and Baby Boomers consume the lion's share of it. Despite the increasing popularity of craft beers, Americans still by and large prefer wine. 3
Exactly how much wine is the average American sending down the hatch these days? Not enough to float the proverbial battleship, but more than one might imagine. Statista.com reports that U.S. consumers individually drank 2.8 gallons of wine in 2014, an uptick of almost half-a-gallon from the previous year. Americans are drinking lots of wine at home, too, outpacing consumption in bars and restaurants by a ratio of nearly 3 to 1. 4
By and large, when it comes to wine, Americans are drinking American. Is it a nationalistic thing? A price-point thing? Whatever the case, domestic wines accounted for 71% of US wine sales last year. "Domestic wines accounted for 71 percent of consumption last year. Of imports, France tied Italy with respondents in their 20s and finished first with those age 30–39, but ranked second to Italy for consumers in their 40s. Spain was third among all three age groups. Nielsen's research shows that New Zealand, France and Italy all lead in growth, while Argentina, Chile, Germany, Australia and South Africa are down." 5
On The Ascent!
Rose wines continued their hot streak again in 2016, and in this category, French roses accounted for an impressive 62% in the category. American roses followed with a respectable 30 percent of international sales. Prosecco sales were sparkling, as well, with sales up a sizeable 25 percent from the previous year. 6
Women Want Wine
They sure do! The preponderant pursuers of the grape are women, to the tune of 57% (Neilsen Spectra 2016). Of these, 60-69 year-olds make up the largest percentage. Younger age groups are divided up relatively evenly from 15-18%. Perhaps the 60's offer the perfect time to bask in one's achievements and to enjoy the singular, warm glow that a nice glass of wine provides.
The Wine of Millennials
Millennial wine enthusiasts compartmentalize along ethnic lines in interesting ways. Here's a recent breakdown compiled by winemag.com.
71% Caucasian

13% Hispanic

9% African-American

4% Asian

2% Mixed
"45 percent of Millennials in the U.S. identify as multicultural, and that figure is growing."7
America's number one table wine brand Barefoot was sold to the E&J Gallo Winery in 2005. The table wine brand had a market share of about 6.58 percent in the United States in 2015. 8
The Good Stuff
According to Neilson (2017), wine sellers in the US are pleased about the prospect of premiumization. This positive trend is attributable to improved consumer confidence ratings in 2017. "Buying up" to more expensive brands will continue in the foreseeable future.  "The average bottle price is now $10, making the US wine market the largest in both volume and value."9
Concurrently, sales figures for less expensive wines are less glowing. One area of negative growth in the industry is for wine with a purchase point below eight-dollars. It's interesting to note that, "58% of wine sold in the US is still under $8 per bottle, not including boxed wine."10
Restaurant Wine Sales Fall Flat
Overall, wine sales in the US have been robust recently, but the news is not rosy on all fronts. Restaurants have experienced flat growth and the prognosis for 2017 is lukewarm at best.
"The data indicates restaurant wine sales will increase by less than one percent in dollars and will shrink two percent by volume. The lone areas of growth by volume: red varietals and blends priced above $25. But even these should increase by just one percent." 11  With an average restaurant bottle price of $40, frugal younger imbibers may prefer beer to wine simply for the cheaper price.
Direct Shipment Potential: Uncorked!
American consumers are becoming increasingly comfortable with ordering their wine direct from wineries. Smaller companies in particular favor this delivery method as a great way to secure and retain regular purchasers. Order volumes were up 17% for both large and small wineries in 2016, with direct shipments by large wine producers off the charts, increasing by 183%. Of all varieties offered, once again Cabernet Sauvignon remains the most popular wine for direct shippers, though its growth has slowed recently. Red blends sales spiked by 28% in 2016, giving Pinot Noir some genuine competition for the second-place position. 12
Acquisitions and Innovations
According to Thach and Chang, 2016, the industry will continue to see unique packaging innovations, such as aluminum cans for wine, in the year ahead.
Along with innovation, "Acquisitions and start-ups within the wine industry are expected to continue in 2017, even with higher interest rates (McMillan, 2017)." 13
Marijuana's Buzz In The Wine Industry
With marijuana laws becoming increasingly relaxed in the US, wine producers are experiencing some worries about pots potential encroachment upon wine's territory with consumers seeking recreational means of relaxation.
"As of today, eight states—including California—and D.C. have legalized marijuana for recreational use. More than a dozen additional states have approved the drug for medical use. Americans and Canadians have spent an estimated $53.3 billion on marijuana annually, with legal purchases on the rise."14
According to Cowen and Co. analysts in 2016, there are indications in states which have legalized marijuana that
Beer sales have been negatively affected. Wine producers are naturally concerned that cannabis consumption could also impact sales, particularly in lower-priced wine categories.
Rob McMillan, who authored Silicon Valley Bank's annual "State of the Wine Industry" report. "It is too soon to call," McMillan said. "People don't drink wine to get high, they smoke marijuana to get high. I don't think it will hurt demand."15
Five Great Songs About Wine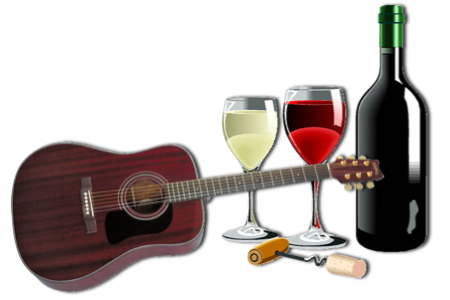 The Eagles – Hotel California "We haven't had that spirit here since 1969′"
Queen – Killer Queen "She keeps Moet et Chandon in a pretty cabinet"
Elton John – Honky Cat  "Trying to drink whiskey … from a bottle of wine."
Three Dog Night – Joy To The World  "He always had some mighty fine wine"
La Belle – Lady Marmalade "We drink wine with diamonds in the glass"
Climate Change Concerns
For some, the jury is still out on the cause and effects of climate change. It's not surprising, however, that agriculturalists and wine producers specifically, take any talk of climate alteration quite seriously. So, how could climate change affect vineyards and wine growers in the future? Lee Hannah, a Cal-Santa Barbara climate change biologist, says increased warming will make wine producers adjust their ways of growing grapes.
Drought in California, and continued hot weather, could negatively impact wine production in key areas such as Sonoma and Napa Counties.
"The devil is in the details for each particular region in how that exactly plays out, and there may be winners and losers," Hannah says. "In Europe, things could be more moderate than what our model suggested, and possibly in California, things will be more extreme."16
No doubt, production methods will have to be altered if climate instability continues. Experts like Gregory Jones, Professor of Environmental Science at Southern Oregon University, believe that current climate trends could make states like California increasingly reliant of irrigation to provide the necessary water for wine production.
Investing In Wine's Future
All things considered, things are generally looking up for wine producers in the United States. With sales booming and wine production escalating, American's love affair with the grape shows no sign of tapering off. For investors able to secure sought-after vintages of exclusives wines, there are profits to be made, and long-term benefits to be accrued from savvy procurement.
According to David Sokolin, author of Investing in Liquid Assets, "The rarer the wine, the better the investment,  because rare wines will continue to be the most sought-after vintages. Over time they continue to appreciate. Because they are finite and decreasing in quantity, and are now chased by a global clientele, they should go up in price." 17
The following sources were used in the creation of this paper:
http://www.discus.org/economics/import/

https://www.shipcompliant.com/blog/2017/02/03/record-breaking-year-direct-consumer-wine-shipments-top-trends-2016/

http://money.usnews.com/investing/articles/2016-06-08/how-to-invest-in-wine
You may also be interested in…