Superfood Skincare Market Research
Superfoods are plant, fish, and dairy based, nutritional in value and good for one's health. These foods are not part of any particular food group. The health and wellness industry markets them as foods that are high in nutrients and have lots of health benefits. Superfoods contain extra amounts of vitamins and minerals. These nutrients help the body's natural ability to fight off diseases such as cancer. They also help control chronic conditions such as hypertension and diabetes. Superfoods allow people to live long and very healthy lives.
Sought-after superfoods include blueberries and kiwifruit. Nuts, seeds, beans, and grains are also superfoods. Dark leafy greens like kale and spinach also fall into the super food category. Also included are fish rich in omega-acids, sweet potatoes, and squash.
Other very healthy foods are also beneficial to health. Due to unexplained reasons, the health and wellness industry is not yet touting these fruits and vegetables as superfoods. The term "superfoods" implies the power and abilities of the foods. Still, people should consume them in moderation like any other food. Too much can prove detrimental to one's health.
Superfoods for the Skin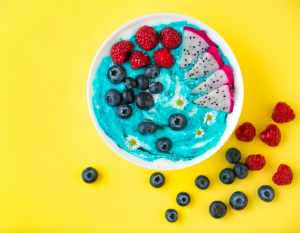 Cosmetic companies have discovered that superfoods also benefit the skin. These companies are developing skin care products with superfoods as ingredients. Indeed there has been a shift of focus, so superfoods are now included in skin care regimens.
Skincare companies are targeting the health and beauty conscious segment of the market. It is happening as the world becomes more health conscious. People are more cautious about what they put inside their bodies. The idea is that if a type of food is beneficial to the internal organs, then it should do wonders for the outward appearance.
Some ingredients found in skin care products in the past have proven toxic. Cosmetic companies are using healthier ingredients that are high in vitamins and nutrients. The expectation is that superfood ingredients in skincare will increase.
Aloe is one of the super foods that promote clear and healthy skin. Other skincare superfoods are blackberries and blueberries. Skincare companies are marketing these superfoods, as nutri-cosmetics.
Superfood Skincare Brands
Companies that produce nutri-cosmetics include Avon, Tilvee Super Food Skincare, and Johnson & Johnson. Such companies are now taking a healthier and natural approach to product development. They are selling products at a faster rate with shorter shelf lives, as a result of customer reviews. Even skin capsules are being transformed to include superfoods. Aloe and cucumber skin lotions are a good example. Most of these products smell almost as good, and even better than the actual food they from which they are derived.
The company that stands out in the field of superfood skincare is Elemis. This company sources plant-based botanicals from all corners of the world. It blends laboratory-made ingredients with super botanicals. These blends produce formulations that undergo thorough clinical and consumer testing. Most contain super compounds such as antioxidants and peptides. Scientists choose these botanicals for their potency. They also value their uniqueness, efficacy, and dynamic properties.
Krave is another brand with the philosophy that skincare should respect its biology. They base their products on non-irritating, fragrance-free formulas. They blend their formulas with "skin-Kraveable" nutrients and antioxidants. Krave is made in Korea. However, the brand is clear about not wanting to be part of the K-Beauty craze. Krave wants to be clear that their products can stand on their own.
Thousands of superfood products are already on the market. More are under development. The world is becoming health oriented. The general population is reading labels. People are looking for particular ingredients before buying skin care products. In this age of information, the fine print cannot hide. People are taking better care of their bodies both inside and out.
Kale Skincare
The cosmetic industry has embraced the superfood trend. Kale, which was virtually ignored twenty years ago, is now being consumed in copious quantities. It's only natural that these kale eaters will also see the benefit of using elements of the plant in their skincare. This segment of the population is easy to market to, and the cosmetic industry is enjoying the benefit of this low hanging fruit.
About Us
SIS has over 35 years experience in conducting Market Research and Strategy Consulting projects for Skincare, Health and Wellness companies.  We conduct In-Home Product Usage tests, Focus Groups, Ethnography, Influencer research and Customer Interviews.