Market Research in Sudan, Africa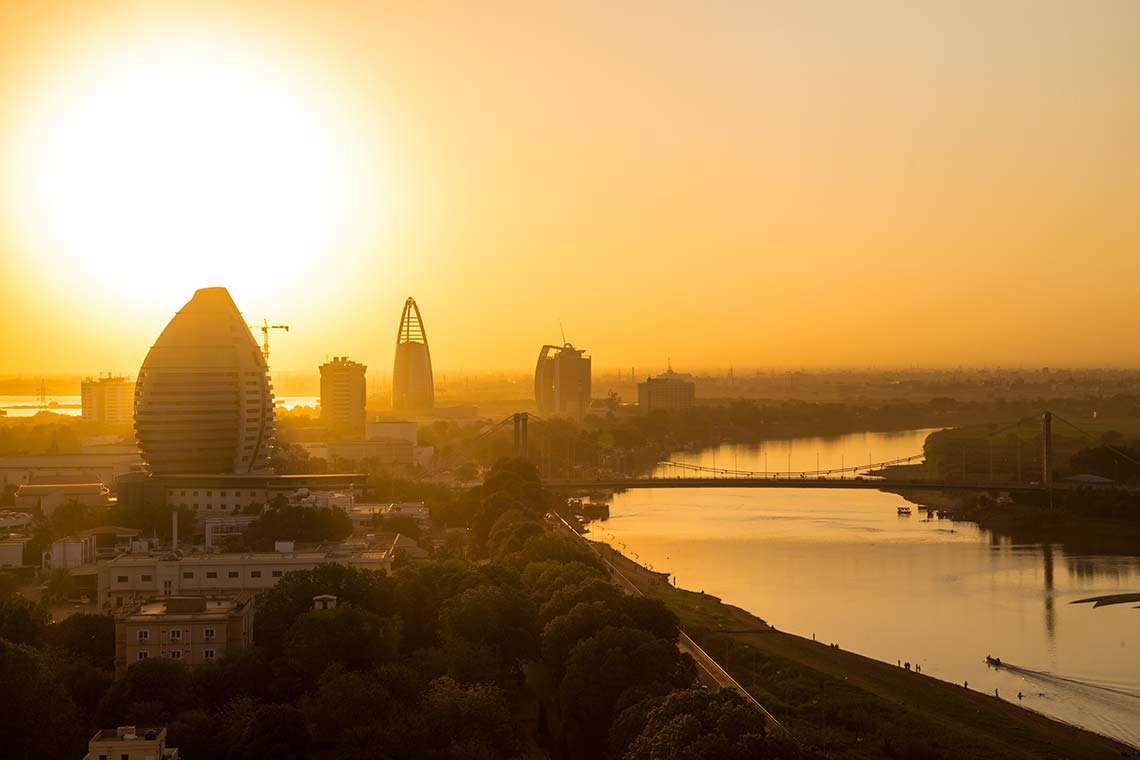 The Republic of Sudan is a Northeast African country. It is to the south of Egypt and north of South Sudan. On its eastern and western borders are Eritrea and Chad. The Red Sea is to the Northeast of Sudan.
Key Industries
The primary Sudanese industries are agriculture, tourism, oil & gas, and mining.
Sudan exports crude oil, oilseeds, sheep, and goats. The country is also a significant exporter of gold, natural gums, and cotton.
A large part of Sudan's land area is suitable for agricultural practices. Additionally, this fertile land helps sustain the country's solid agrarian industry, which employs most of the population. Sudan also engages in irrigated agriculture. As a matter of fact, it produces several cash crops under irrigation. For example, farmers plant cotton in this way.
Another key point is that the primary water source for irrigation is the River Nile. The farming industry also uses other small rivers.
Sudan is famous for its rich history. Another feature of Sudan is the pyramids throughout the country, which attract high levels of tourism. Many ancient sites have gained further popularity with international tourists. For example, one can visit the ancient Kush sites of Meroe Island. Sudan continues to develop the tourism sector in particular by investing in it.
The oil and gas sector dominates the share of exports in Sudan. In short, Sudan exports petroleum products to markets in China, Japan, South Korea, and India. In fact, the largest Sudanese oil reserves are in the Southern part of the country. These are in Melut Rift and Muglad basins. Sudan is also home to many oil refineries, which allows it to meet external demand.
A wide variety of minerals exist in Sudan. These include gold, iron, copper, marble, and limestone. The Sudanese use many of the mines, such as Gebeit, to extract large amounts of gold. There are large gold reserves within the country. Sudan has mined gold for decades, and it continues to be a very profitable industry.
Neighborhoods
Most of the Sudanese population live in rural areas. The most populated city is Omdurman in the state of Khartoum. The city Khartoum is the second-largest city on population.
Khartoum city is the administrative capital of Sudan. It is in the state of Khartoum and lies between the Blue and White Nile. Khartoum is an impoverished city. It consists of only a few paved, tree-lined streets.
In contrast, the city, Omdurman, lies to the west of the Nile. It is a center for commercial activity in Sudan. The weather in Omdurman is sunny throughout the year with low precipitation. This city is Sudan's historical, cultural, and spiritual capital.
Trends
There is an urgent need for direct foreign investment in Sudan to ensure its survival. There is a growing interest in the hydropower market because Sudan is a net importer of energy. The government aims to turn that around. They aim to meet the power demand using the country's resources. It is exploring new developments in nuclear energy to assist this goal.
Benefits and Strengths in the Market
Sudan has plenty of natural resources, including rich fertile land and diverse wildlife. It has a unique location with easy ocean access, and it also has a large labor force. These attributes can help improve the Sudanese economy. They are currently underutilized and represent an investment opportunity.
Consumer Base
A large part of the population is food insecure. The people experience high levels of unemployment. As a result, people engage in activities such as subsistence farming which provides no wages. The Sudanese people also suffer from high levels of illiteracy. There is room for improvement within the education system.
Reasons to Grow Your Business in the Sudanese Market
Despite the many challenges, Sudan is an investment opportunity hub. With adequate funding, businesses in the agricultural and mining sectors will thrive. The Sudanese people tend to underutilize the country's natural resources and agricultural land. They have not developed the livestock industry to its full potential. Thus, these sectors are ripe for foreign investment.
Sudan also needs to improve its transportation network. Transportation and other infrastructural developments are good business opportunities.
The Sudanese market is underdeveloped and has massive potential for growth.
About Market Research in Sudan
Businesses should conduct Quantitative, Qualitative, and Strategic Research before market entry. Such research analyzes current information. It helps investors to make decisions on market entry and on which products to sell. Market Research can have a positive impact on your business ventures. Thus, it's essential to give it some consideration before entering the Sudanese market.