Market Research in Antigua & Barbuda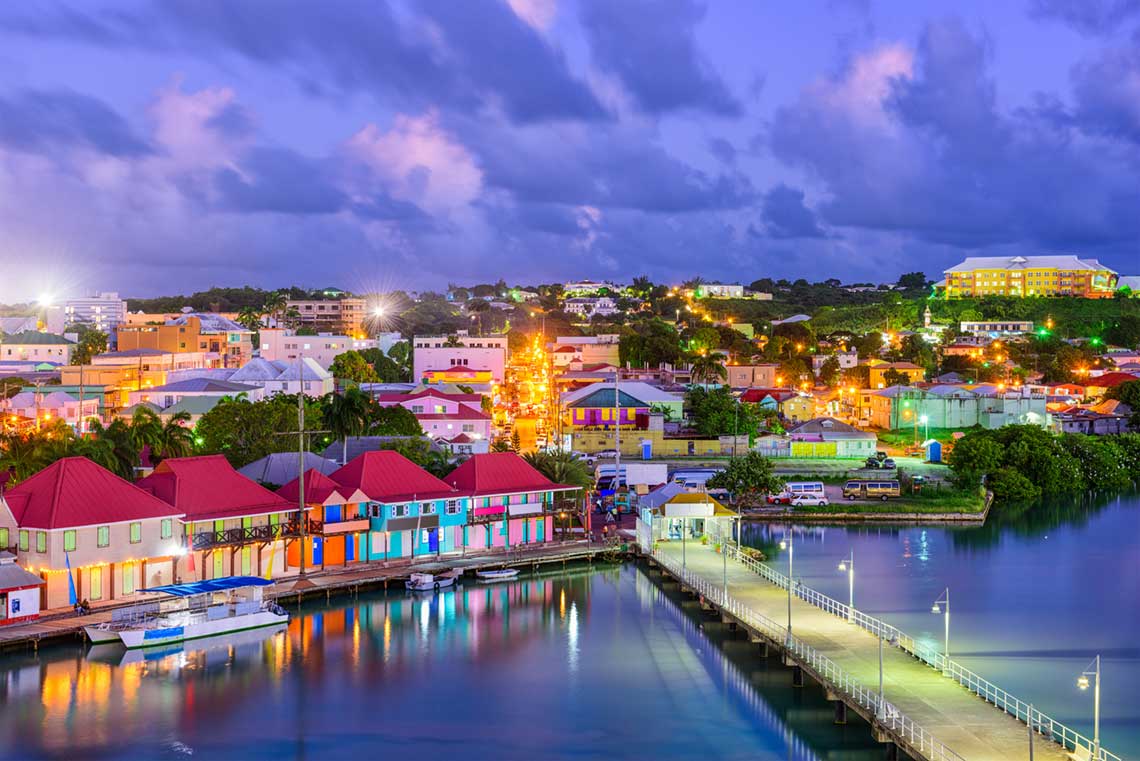 Antigua and Barbuda is a semi-arid country made up of three islands in the Eastern Caribbean. The state does very well in tourism. It is also an online gaming mecca. Antigua and Barbuda lie east-southeast of Puerto Rico. The islands are also close to Anguilla, St. Kitts & Nevis, and St. Barths.
Key Industries
Tourism & travel is the islands' mainstay and accounts for more than half of the GDP. Antigua and Barbuda is famous for its many resorts. Rural Antiguans also do a fair amount of animal rearing, fishing, and mining. There's quite a bit of light manufacturing, and the islands produce refined oil, rum, garments, paints, and furniture.
Neighborhoods
St. John's
St. John's, the capital and largest city, is the chief port and the nation's commercial hub. The city boasts several heritage sites. The most famous is the 18th-century Fort James at St. John's Harbour. Ruins of sugar mills and great houses lie scattered around St. John's.
English Harbour and Falmouth Harbour
English Harbour and Falmouth Harbour are next to each other. Both are on the extreme south end of Antigua, and they both brim with activity from seaside bars, restaurants, and cafes.
Dickenson Bay
Dickenson Bay is another busy town and is the center of water sports and nightlife. It's a fun place for residents and newcomers alike. Small hotels and large resorts line the bay. So do restaurants, bars, cafes, vending stalls, and water sports companies.
Jolly Harbour
Jolly Harbour is the largest man-made harbor in the region. It's perfect for yachting, sailing, and fishing fans. This area offers restaurants, bars, and the Jolly Harbour Golf Club.
Trends
Antigua and Barbuda is seeing a modest but upward trend in its GDP growth rate. The country has shown a steady rebound in visitor arrivals since the downturn in the early 2020s. It is now looking at another sector: the "blue economy." The aim is to have the blue economy further boost tourism.
In the real estate market, buyer restraint has continued. Thus, there have been fewer sales and buyers take longer to commit.
Benefits and Strengths in the Market
Low tax rates for starting a business
The investor-friendly business climate
A steady supply of power
Getting insured is hassle-free
Consumer Base
About three-quarters of Antiguans and Barbudans reside in rural areas, with the other 25 percent staying in urban centers around the country. The median age is 34.5 years, with only ten percent of the people above the age of 65.
Antigua and Barbuda's Internet penetration stands at around three-quarters of the population. The number of social media users is somewhat lower, at slightly more than two-thirds. The most popular social network in Antigua and Barbuda is Facebook.
Reasons to Grow Your Business in Antigua and Barbuda
Antigua and Barbuda is one of the richest countries in the Eastern Caribbean. Further, it has plenty of thriving industries that are perfect for new business. The state also boasts well-educated and skilled workers. It has a 98 percent literacy rate. Another reason to do business in Antigua and Barbuda? It has the Small Business Development Act. This Act aims to aid the growth of the country's small enterprise sector. Thus, it helps small business owners with various concessions and benefits. It also ensures that they get technical help.
About Market Research in Antigua and Barbuda
SIS International is a full-service market research agency providing Quantitative and Qualitative Research services. We also do UX, Strategy Market Research, Competitive Analysis, Market Entry, Market Sizing, and Market Opportunity Research. Also, we carry out Surveys, Interviews, and Focus Groups for clients worldwide.