Dairy Market Research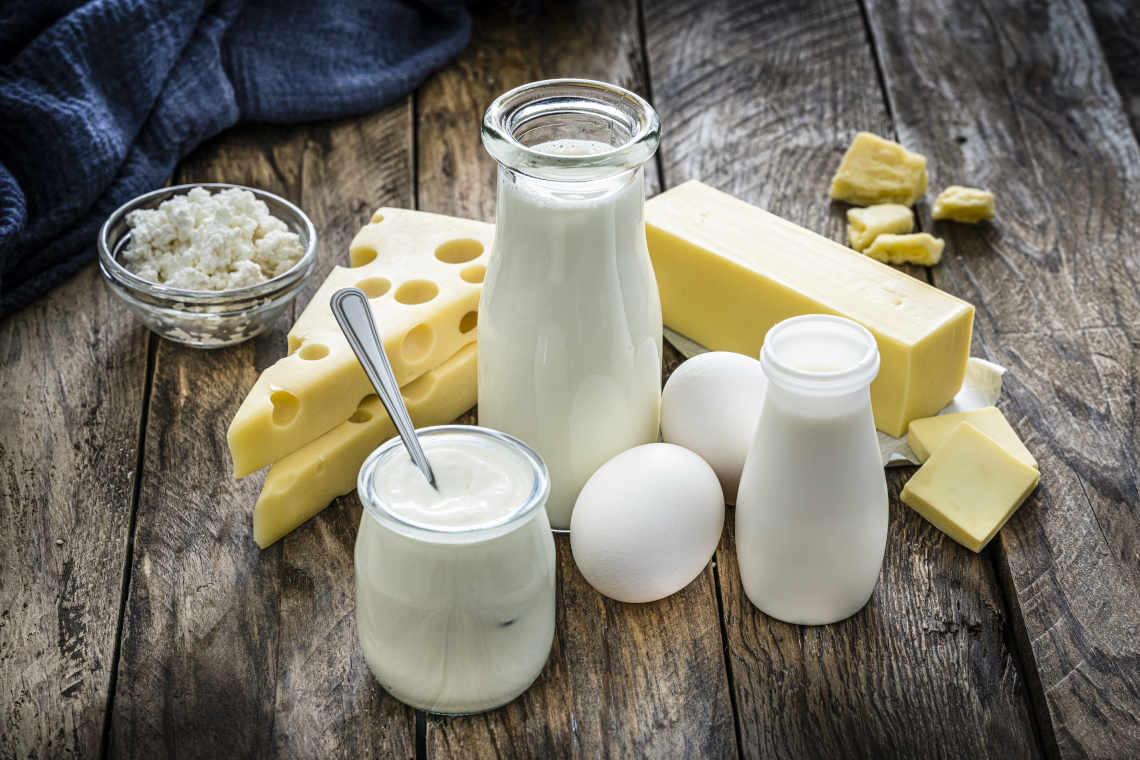 Dairy market research provides insights into various business processes and sectors vital to dairy production and distribution. The dairy industry has an optimistic long-term outlook. The demand for simple and nutritious on-the-go snack options is the key factor driving global dairy product sales. Dairy-based goods include naturally high levels of calcium and are regarded as a healthy snack option.
The industry for dairy products is segmented by product type, distribution channel, and region. The dairy market research provides crucial information and forecasts on the market size and values for the various segments included in the industry.
What is Dairy?
Dairy encompasses all dietary items derived from the milk of various animals. This often includes cows, goats, and other animals for people. Milk, cheese, cream, yogurt, and ice cream are well-liked dairy products.
Dairy products are nutritional powerhouses, and dairy farmers produce them in the most eco-friendly manner possible. Sustainable nutrition combines the nutritional value and health advantages of food with its impact on the environment.
Key Trends in the Dairy Market
Consumer demand for dairy products has increased due to their nutritious factors. Most dairy products have the ability to maintain healthy bones and teeth, as well as improve heart health and reduce the risk of type 2 diabetes. Another factor is the consumption of dairy products in nations with growing populations and rising per capita income are driving the expansion of the global dairy market.
Buyers are developing new preferences for dairy products and adjusting their tastes over time, which is strengthening the future of the industry. Consequently, the dairy sector is evolving to produce dairy products with various flavors and variants. Also, there is a shift in global demand for local products, such as ghee, as more and more individuals get exposed to other cultures.
Data and strategies in the dairy industry shows recent trends in the dairy business indicate an increasing demand for specialized dairy products. This trend is brought about by various medical conditions, obesity, and the incidence of lactose intolerance. The type of dairy products that are affected by these demands includes skim milk, lactose-free milk, probiotic milk, and non-fat dry milk.
The data and strategies in the dairy industry show dairy products are used in a wide range of industries, including medical diet, sports nutrition, and newborn formula. On top of daily consumption, the rise in demands of end-users for both personal and medical reasons is significant in the expansion of the dairy market.
Dairy Market Analysis
Market research provides insights into consumer and market trends that will enable businesses, executives, and industry players to comprehend what motivates buyers when selecting specific products. The data gathered can also reveal preferences and other factors that can discover more opportunities to increase dairy profitability.
Below are some of the key factors that are included when it comes to dairy market research:
Dairy Market Segmentation Based on Product Type
Most popular Dairy Products include but are not limited to:
Anhydrous Milk Fat (AMF)
Butter
Casein
Cheese
Cream
Fluid/UHT/Flavoured Milk
Ghee
Ice-Cream
Indian Cheese (Paneer)
Lactose
Probiotic Dairy Products
Skimmed Milk Powder/Non-Fat Dry Milk
Whey Protein (Powder and Concentrate)
Whole Milk Powder
Yogurt
Product Demands Affecting Dairy Market Share
The dairy milk market share is the largest segment of the global dairy products market, regardless of whether it is in full cream, skimmed, powdered, or any other form. Milk consumption is a daily habit in households across the globe, especially for youngsters, regardless of whether it is consumed with added flavors or cereals.
Cheese is another prominent dairy product with a substantial market share in the dairy business that is widely utilized in culinary preparations, especially in different kinds of pasta, snack foods, sandwiches, salads, and pizzas.
In addition, butter has numerous applications in baking, making it a large market in the dairy industry. According to dairy market data, consumers choose soft cheeses, milk, and yogurt because of their increasing health consciousness.
Dairy ice cream is quite popular and has a significant proportion of the dairy market due to its demand by people of all ages. Ice cream, a popular dessert worldwide, comes in numerous flavors and can be served in various ways.
Additional Factors Impacting the Dairy Market Industry
Dairy Production
Developing nations' contribution to global dairy output has increased. This expansion is primarily attributable to an increase in the total number of producing animals rather than a boost in productivity. In many underdeveloped nations, poor-quality fodder for livestock, illnesses or epidemics, and restricted access to markets and services limit dairy production.
Dairy Market Transportation and Supply Chain
In many underdeveloped nations, establishing a dairy supply chain that is efficient, hygienic, and cost-effective is a formidable issue. Among the contributing factors are the following:
difficulties in developing a profitable milk transport and collection system
amount of milk produced by each farm and the isolation of production facilities
poor transportation system
lack of expertise and technology in milk collection and processing
quality issues with the raw milk
distances between producing sites, processing facilities, and consumers
problems with establishing cooling facilities
Dairy Market Research Provides Insights into the Dairy Market Competitive Landscape
The dairy market is a large industry impacting other sectors, such as those in food production. Knowing the key players in the market, such as identifying their business landscape, recent developments as well as expansion plans can provide vital data and strategies in the dairy industry.
Below are some of the major players:
Arla Foods
China Mengniu Dairy Company Limited
Dairy Farmers of America, Inc.
Danone S.A.
Fonterra Cooperative Group Limited
Lactalis Group
Nestlé S.A.
Royal FrieslandCampina N.V.
Saputo Inc.
Market Research provides insights based on the information gathered on these companies, which include:
Company Profiles
Company Overview
Product Portfolio
Demographic Reach and Achievements
Certifications
About the Dairy Market Research
Dairy is a highly nutritious and versatile product that may be utilized throughout the food supply chain, making the dairy sector essential to the food industry of any given nation. The dairy market research gathers data and strategies in the dairy industry to provide a thorough study of the worldwide dairy markets. The information gathered includes current, short-term, and long-term solutions to support business and operational requirements. Dairy market research provides insights that can be a useful tool for anybody seeking to make informed production, application, marketing, as well as strategic planning decisions.
Contact us for your next Market Research Project.