Market Research in St. Kitts & Nevis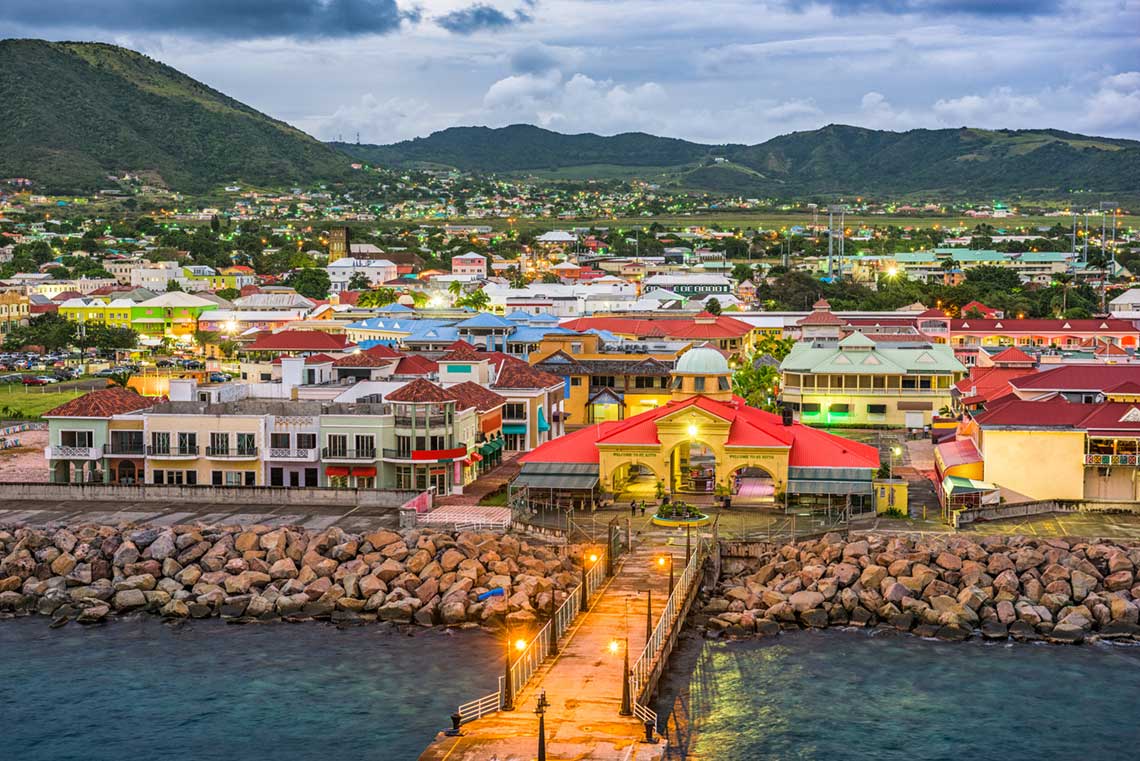 Saint Kitts and Nevis is a micro-state. It consists of two islands located in the Leeward Islands chain of the Lesser Antilles. St. Kitts & Nevis is the smallest sovereign country in the Western Hemisphere. The capital city is Basseterre, on St. Kitts. Anguilla used to be part of this union, but that island chose to secede and is now a British Overseas Territory.
Key Industries
The primary industry in Saint Kitts and Nevis is tourism, and the islands rely on both long-term and short-term visitors. Agriculture is another primary industry. About 39 percent of the islands are under cultivation. Sugar cane is one of the major crops. Animal husbandry is yet another, and the islanders rear sheep, goats, cattle, and pigs. The islands also export fish to the Dutch Caribbean and Puerto Rico. The people of Saint Kitts and Nevis also engage in forestry and mining.
Neighborhoods
Basseterre, the capital city, boasts old buildings and monuments due to its long history of colonial struggle. Points of interest include Independence Square and the Circus area. Sandy Point is St. Kitts' second-largest town. It is home to a UNESCO Heritage Site – Brimstone Hill Fortress National Park, which offers a superb view of the plains below and the ocean. Charlestown is the chief town and port in Nevis, and is also home to many tourist sites.
Trends
Saint Kitts and Nevis is rebounding after a sharp decline. Decreasing world prices have hurt the sugar cane industry in recent years. The impact of the current downturn on tourism, the mainstay, had ripple effects. Saint Kitts and Nevis are also prone to external shocks. For example, natural disasters, climate change, and global crises can hit hard. The country has singled out primary investment sectors, including tourism, financial services, and real estate. ICT, limited light manufacturing, and renewable energy are other areas of prime concern.
Benefits and Strengths in the Market
Saint Kitts and Nevis has become one of the region's fastest-growing economies. It has a solid infrastructure and sandy, sunny beaches. Also, the islands have a thriving local and ex-pat community. More than a million people visit Saint Kitts and Nevis each year. Some of them like it so much that they end up staying. Another strength is the fact that Saint Kitts and Nevis are English-speaking islands. The widespread use of English means that it's easy for people to conduct business in this thriving nation.
Consumer Base
Saint Kitts and Nevis is home to a total of 54,000 people. Many of these people depend on foreign remittances, which comprise about 3 percent of the GDP. Almost 100 percent of households on the two islands have access to electricity. About 80 percent of people have Internet access. In 2022 the country rolled out its National Quality Policy. This policy is a project aimed at protecting consumers from shoddy goods.
Reasons to Grow Your Business in Saint Kitts & Nevis
One of the reasons to grow a business in Saint Kitts and Nevis is its banking sector. The cost of transactions is low, and the privacy policies are sound. Companies can also receive tax benefits. In St. Kitts and Nevis, there are no taxes on capital gains, personal income, royalties, or estate. Dividends, interest, technical services, and gifts are not taxed. Moreover, the islands have a strong economy. The central bank has pegged the East Caribbean Dollar to the US dollar at XCD$2.7 = US$1 for the past 45 years.
About Market Research in Saint Kitts and Nevis
SIS International is a top market research company providing insights into the investing climate in Saint Kitts and Nevis. We offer Quantitative and Qualitative Research services. We provide high-quality UX and Strategy Market Research to companies worldwide. If you need a market research company, SIS is your best bet. Another of our services is Focus Groups, which form part of Market Entry Research. We also do Surveys and Interviews to help you reach your target audience.