Asian Food Market Research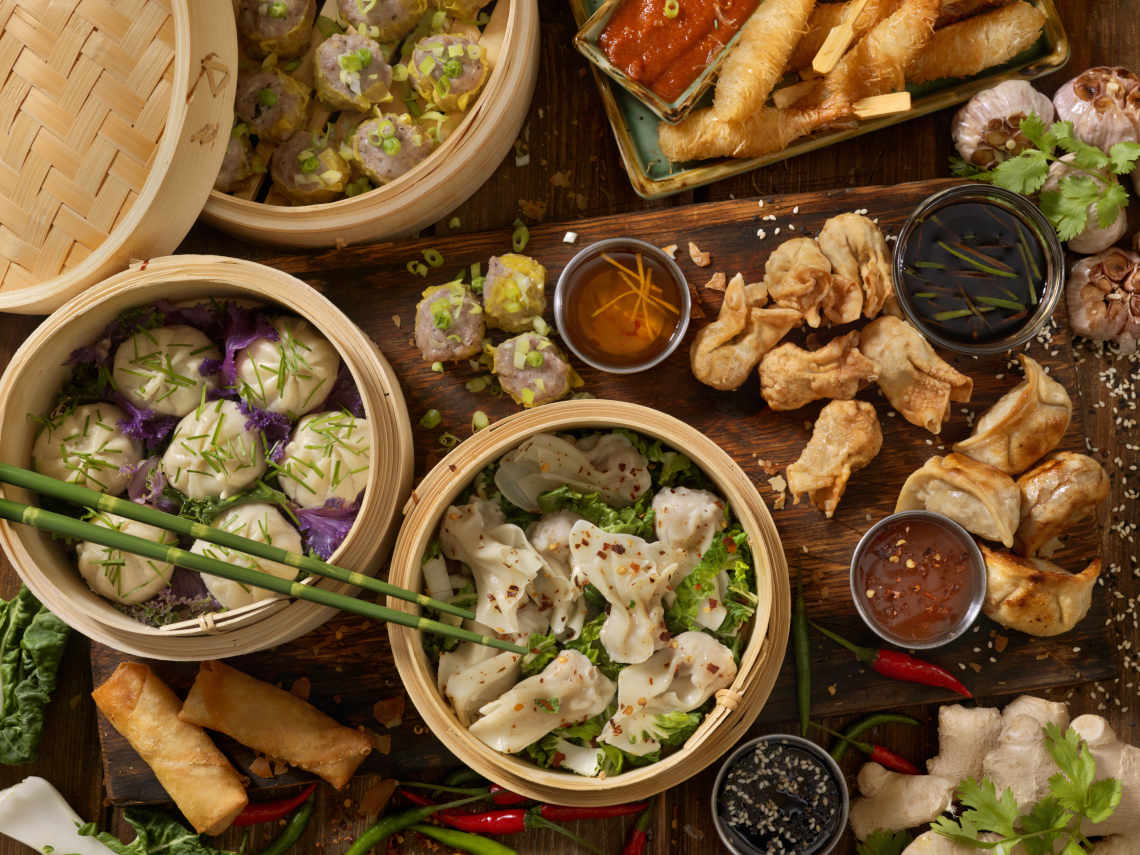 Asian Food Market Research offers information to assist businesses in understanding the shift in consumer patterns and expanding brand recognition. The objective of this study is to collect data and strategies in Asian food industry, which includes but is not limited to companies engaged in the manufacture, production, packaging, retailing, and distribution of various Asian food products.
Asian meals have evolved significantly over the past few decades as a result of product developments, access to transportation and communication, and technological advancements that have allowed businesses to keep up with the rising demand for Asian foods. Also, due to the desire for higher quality and larger quantities of food, the Asian food sector drives other industries, including restaurants, fast food establishments, convenience stores, supermarkets, and other enterprises involved in its production and distribution.
Asian Food Market Description
The Asian food market is predicted to expand globally in the coming years. Products included in the Asian food market refer to the dishes of countries on the Asian continent. These include food products from countries in  Southeast Asia, Middle East Asia, and other locations, as well as dishes and products from Japan, Korea, India, China, and Vietnam, among others.
Vegetables and spices contribute significantly to the flavors of dishes in Asian food. Asian cuisine contains the optimal balance of salty, sweet, and spicy ingredients. There are also a variety of textures in Asian food which make the dishes and products have their own distinct taste that is both interesting and palatable. Food preparation and how they are served are also factors to consider when understanding Asian food.  Consequently, the flavor of the meal is influenced by where it originated and the customs and traditions observed in that location.
Top Asian Countries in the Global Food Market
Japan
Thailand
Sri Lanka
Vietnam
China
India
Malaysia
Iran
Indonesia
South Korea
Asian Food Market Drivers
Recently, data and strategies in Asian food industry showed consumers boosted their consumption of a variety of Asian foods, including ready-to-eat products that are in high demand worldwide, hence fueling the demand for Asian foods. Below are some of the factors impacting the movement and growth of the Asian Food industry:
Increase in Demand Due to Globalization
With increasing immigration rates due to employment opportunities, higher education, and tourism, the demand for Asian food has been on the rise. In the medium term, with rising consumption of nutrient-rich foods and rising capital investment in producing healthy Asian-based foods, the studied market is anticipated to gain traction during the forecast period.
The availability and accessibility of Asian food items through restaurants and supermarket chains specializing in Asian food are one element fueling demand. A growing number of individuals are interested in experiencing global and exotic cuisines when dining out. Innovative and inventive cuisines are gaining in popularity among customers.
Greater Consumption of Asian Food
Much growth potential exists for Asian food service enterprises in the Asia-Pacific area as a result of the rising young population and the fast-paced habit of eating and experimenting with numerous interstate and intercountry food cultures.
Globally, consumers' interest in Asian cuisines such as Chinese, Thai, Korean, Vietnamese, and Japanese is on the rise, and they prefer robust flavors. This trend is driven by the expanding immigrant population as well as the high demand from local people.
Social Media and Online Platforms' Influence
Growing social media usage among Asians and those from other developing countries have allowed them to share their culinary experiences, enabling consumers to explore new food options and products based on the opinions provided. Increasing numbers of consumers are seeking out new global and local cuisines. In addition, businesses are seeking to address consumer demand for novel and distinctive food items by increasing the number of Asian food favorites and diversifying their product lines.
Additional Key Factors Covered in the Asian Food Market Research:
Detailed info on the market growth drivers and inhibitors of the Asian Food industry.
Accurate market size estimates for Asian Food sector
Realistic forecasts of future trends and consumer behavior
Expansion possibilities for Asian Food market products
A comprehensive analysis of the competitive landscape within the Asian Food market
Asian Food Market Research Global Landscape
To enhance global prominence, businesses in the Asian Food sector are focusing more on implementing focused marketing and innovative product presentations. Data and strategies in Asian food industry discovered notable trends of corporations seeking to manage more commercial activities in nations with favorable policies.
Doing so enables these organizations to reduce expenses while employing industry experts at every crucial organizational juncture. Authorities in rising Asian countries are cutting trade tariffs and taxes to entice international investors to their various industrial sectors to generate more jobs and profits.
Market Research Provides Insights Based on The Following Factors
Consumers' Buying Behaviors
The market research provides insights into the data and methods employed by various industries within the Asian food business. Figures are also based on total consumer expenditures on food, including all private household expenditures for in-home consumption and outside the home.
References and Methods in Data Collecting
Market sizes are established based on specific, predefined variables for each market group. As a basis for evaluating markets, we utilize trustworthy platform resources in addition to in-house market research, national statistics agencies, international institutions, business groups, the trade press, and our analysts' expertise.
Market Trends and Projections
Using various strategies, Asian Food Market research provides insights into market trends and forecasts. The relevant market's behavior determines the application of various research methods. Also, utilization of pertinent important market indicators and statistics such as the gross domestic product, consumer expenditure, and consumer price index is being used for assessment. This information allows the results to independently estimate the market size in each country.
About Asian Food Market Research
Asian food producers are concentrating on the convenience factor, the quality of the food, the variety of cuisines, and the packaging types of their products. While customers continue experimenting with new global cuisines, the Asian food market continues to diversify.
Asian Food Market Research comprehensively analyzes the Asian Food market, outlining its competitive landscape, possible growth opportunities and potential pitfalls, offering information on numerous major market players.
Contact us for your next Market Research Project.