Market Research in New Brunswick, Canada
New Brunswick is one of 13 provinces of Canada. To its north is Quebec, and Nova Scotia is to its east.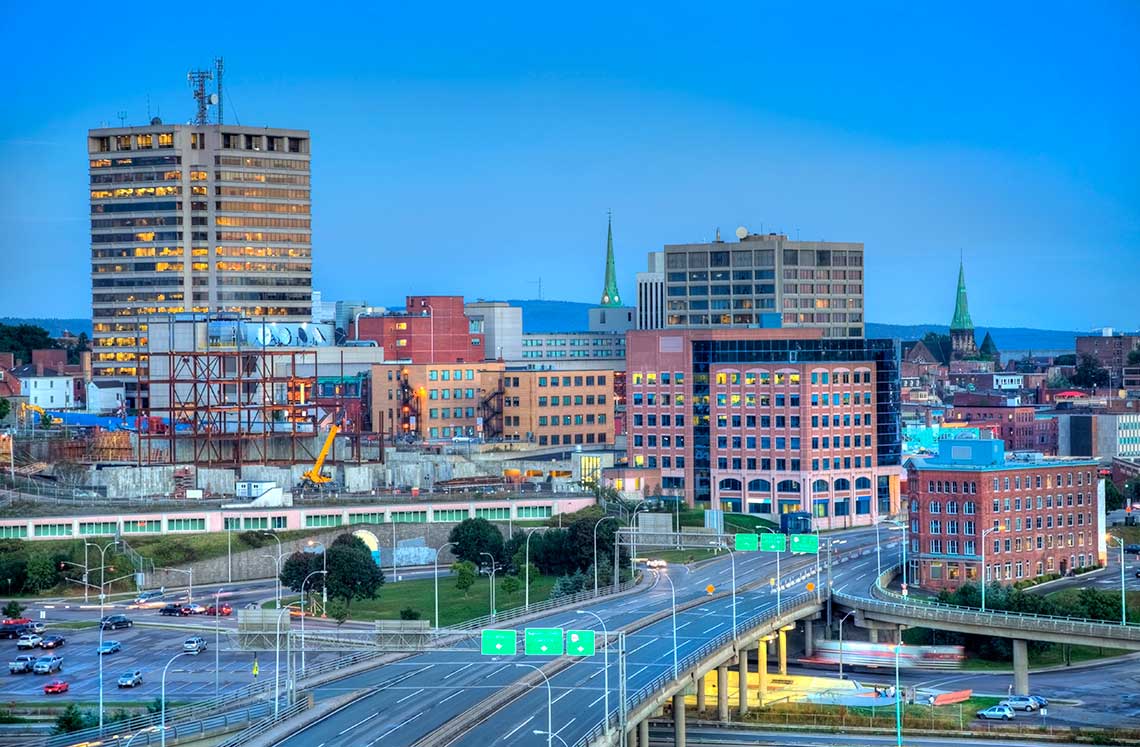 Key Industries
Many industries make up the GDP of New Brunswick. Real estate and rental and leasing is the main one, followed by public admin. Health care and manufacturing are also key sectors.
Many of the people work in the primary sector: those involved in getting raw material out of the ground (or sea, as the case may be). Examples are the farming, mining, and fishing industries.
Forest covers a large part of New Brunswick. Thus, logging is another key industry.
Neighborhoods
New Brunswick has lots of wildlife and evergreen forests.
The largest city within the province is Moncton. This "low rise" city is also the largest urban center in this region. Its skyline has many diverse buildings and structures. It contains old buildings such as the 417-foot tall Bell Aliant Tower, which used to be the tallest microwave communication tower in North America. The city also has many urban parks, such as Centennial Park. This Park has many features, for example, a man-made beach and several hiking trails. It also has tennis areas and a boating pond. Another fact about Moncton is that it is Canada's first bilingual city. Most of the people speak English or French.
Another major city in New Brunswick is Saint John, a seaport on the Atlantic Coast. This city lies on the Bay of Fundy. Saint John is the oldest city in Canada, and it used to be the largest before Moncton beat it. It is a city with a lot of history behind it. It is famous for many firsts. For example, it was home to the first chartered bank in Canada, the Bank of New Brunswick. It is also home to Canada's first public museum, the New Brunswick Museum. The city is also a hub for the arts and boasts many notable artists, actors, and musicians.
Trends
New Brunswick offers many jobs to forestry and agricultural workers. Large areas of forest cover the region.
The province's many bilingual residents attract many investors who want to do business there. Modern sectors focus on finance and insurance. IT is also a growing sector.
Its natural beauty attracts many thousands of annual tourists.
New Brunswick boasts quality education, which citizens can access for free until they are 20. As a result, the province has the highest high school graduation rate.
Outdoor activities are popular among residents and visitors. These include hiking and cycling.
Benefits and Strengths in the Market
New Brunswick adds thousands of jobs every year. It's also a great place for startups.
The province has a low cost of living as compared to others in Canada. This fact makes it an excellent place to grow a family. Also, real estate and other daily essentials are well-priced.
Consumer Base
The people of New Brunswick engage in a simple way of life. They are a close community and live on large properties.
Most consumers desire at-home recreation. Goods and services are being used at home more often. Fast food and grocery delivery, personal training, and clothing are popular options.
Also, the province uses tech more than ever before. Consumers currently value ways to use it in different aspects of life. They also love the ability to access the best products on the market.
Reasons to Grow Your Business in the New Brunswick Market
New Brunswick has a strong business community that sells products and services on a local, regional, national, and international level.
The province is also home to an educated workforce and advanced tech. High-speed internet is an available feature within the region.
New Brunswick is attractive to investors because of it's readiness for investment. Thus, it is ideal for new businesses.
About Market Research New Brunswick
Quantitative, Qualitative, and Strategy Research is crucial. Businesses should carry out these research checks before entering the market. They help determine the best market entry strategy. Examples of this research are surveys, interviews, and focus groups.
It is also essential to visit the province. One can learn about business opportunities in this way. When in New Brunswick, it helps to tour the area and visit business sites. It's also a good idea to conduct online research. It will help inform the market research.